A gold miner accused of assaulting his girlfriend was placed on bail on Tuesday when he appeared in a city court.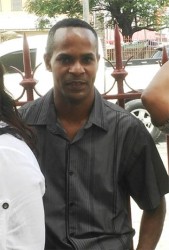 Hewley Robertson, 42, of 17 James Street, Albouystown, denied that he on May 24, at Albouystown, unlawfully assaulted 18-year-old Shanice Joseph.
It is the police's case that Robertson vised Joseph with his hands after an argument ensued between the two, at his home. Prosecutor Jomo Nichols said the matter was subsequently reported and the defendant was arrested and charged.
Appearing before Magistrate Geeta Chandan-Edmond, Robertson told the court that Joseph kept showing up uninvited at his home. Meanwhile Joseph told the court that she visited the defendant after he threatened her.
Magistrate Chandan-Edmond maintained the granting of self-bail to Robertson that had been earlier ordered by Chief Magistrate Priya Sewnarine-Beharry and advised both parties to apply for protection orders.
The matter was adjourned until June 10th, when Robertson's trial is scheduled to begin.
Around the Web