Just when it seemed as though City Council could have a statutory meeting without incident, yesterday's meeting was adjourned by Georgetown Mayor Hamilton Green after he said that it was deteriorating "further into a fish market" due to the incessant shouting and disruptions by PPP Councillor Kamla Devi Ross.
At the commencement of the meeting, there was constant back and forth between PPP/C councillors Devi Ross and Victor Sobers, government-appointed acting Town Clerk Carol Sooba and Mayor Green over changes to be made to the minutes of the previous statutory meetings.
"…Carol Ryan Sooba is reported as the person carrying out the functions of the Town Clerk," Green said, to which Sooba promptly shouted, "Please be advised Mr Mayor that Carol Ryan Sooba is the Town Clerk of George-town."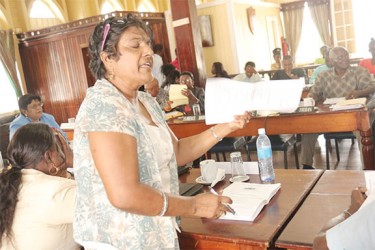 Green had also requested that the minutes should also include the invitation made by him for silent prayers.
"I am responsible for the minutes Mr Mayor. You cannot chose what you want to put in the minutes," Sooba shouted.
Sobers defended Sooba, saying, "You can't put what you want to put when other people and the Town Clerk is here and things have been said…Mr Mayor you just want to put. You say interlope, you call this name and you say all kind of things. That supposed to be in the minutes too… You does bring up thing that happen in Russia and the President and the Prime Minister and you does want to put that in minutes," Sobers argued.
Meanwhile, Green upbraided City Engineer Colvern Venture over what he said was work currently being done on the City Hall. "This afternoon I noticed materials in this building. It was made very clear that the restoration of a complex, historic edifice such as this has to be proceeded only after the experts have looked at it and made their recommendations," he said. "Therefore, I hope the engineer would understand that it would be inappropriate, unwise and a waste of money to do any work on and in this building until an analysis has been made. Engineer should be guided that there should be no works done until we are guided by the experts .This is one of the few remaining treasures in Guyana. Let the experts do what they do best. If the engineer is proceeding to do work, it should be suspended immediately," he added.
Sooba, however, did not take this announcement too well and as she proceeded to give an explanation. But Green then announced that he was "hearing" Deputy Mayor Patricia Chase-Green.
"…I want to remind you the records show that the person to who you referred says the Mayor doesn't hear too well. So, I am hearing the person nearest to me," he said.
"You can't shut me up Mr Mayor," Sooba said.
Devi Ross also shouted that Green was trying to "centralise" himself. "You ignoring the Town Clerk, she like a monument down there," she yelled.
Sobers, however, said that if indeed the work was to be suspended, Green should "advise the Town Clerk so that she could advise the officers to change it."
Green told Stabroek News yesterday afternoon that the meeting had to be adjourned due to the disorder caused by Ross.
"The Deputy Mayor had accused Ross of being inconsistent. She [Chase-Green] had requested the engineer to answer a question and Sooba had intervened and Ross said that he [engineer] had to answer the question," he explained.
"When a question was asked about the garbage and it was directed to the Solid Waste Director Walter Narine he didn't get up and Ross didn't say anything," he said, adding that after all the shouting and the gesticulating by Ross he decided to adjourn the statutory meeting "because I cannot allow it to deteriorate further into a fish market."
The last statutory meeting was prematurely adjourned after Green had said that the public was not allowed to enter the public gallery and because of the non-availability of the council's attendance book. The one before that ended prematurely after a bomb scare forced the evacuation of the building. There was also a tussle between Sooba and the council-appointed Town Clerk Royston King over who would occupy the Town Clerk's Chair.
Around the Web