New Guyana School pupil Jorrel De Santos has topped this year's Grade Six examination, it was announced this morning.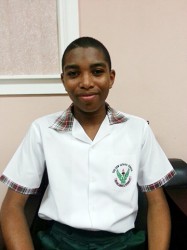 He topped the country with 533 marks.
Aliah Mohamed, a student of School of the Nations secured second place with 531 marks while Ravi Singh, a student of Westfield Prep, sealed the third spot with 530 marks. Isaac Mallampati, of the News Guyana School, gained fourth place with the 527 marks and Analise Samaroo, of School of the Nations, earned 525 marks, securing the fifth position in the country.
Krystal Singh, of Success Elementary, Jeremiah Bentham, of Winfer Gardens Primary, and Jeron Boucher, of Genesis Early Childhood, tied for sixth place with 524 marks. The ninth place was grabbed by Shania De Groot of Success Elementary and Reuben Stanley of Mae's Under 12, both scoring 523 marks.
The 11th spot was secured by six children with 522 marks: Aimee Ali of Success Elementary, Thomas Singh of Marian Academy, Emily De Agrella of Mae's under 12, Manoj Lachhman of Academy of Excellence, Amrita Ghandatt of Enmore Hope Primary and Arielle Lewis of St. Margaret's Primary.
The 17th space was held by eight students who scored 521 marks: Reyad Yassin of Stella Maris Primary, Maria Shakoor of Graham's Hall Primary, Rasheda Jefffrey of Green Acres Primary, Katelan Sugrim of Mae's Under 12, Ethan Lee of Marian Academy, Amira Forde, Joshini Duncan and Yasoda Debidayal of Success Elementary.
[Click on list]

The 25th position was sealed by 9 students who obtained 520 marks: Joash Prowell of Success Elementary, Saskia Cheong of Marian Academy, Paul Singh of the Dharmic Rama Krishna, Nusaibath Hussain of ISA Islamic, Andronicus King of the New Guyana School, Christal Craig of St. Agnes Primary, Samuela Bruce of Academy of Excellency, Nelisa Singh of Corneila Ida Primary and Alicialall Hiralall Windsor Forest Primary.
Around the Web