People's National Congress Reform (PNCR) Leader David Granger yesterday said that his party would not issue a "blanket apology" for any alleged wrongdoings committed during its 28 years in government.
"I am not going to give any blanket apology when no one has given any indication as to what is to be investigated. I want to see evidence…I am not going to apologize on the basis of hearsay or conjecture," he stated at an APNU news conference yesterday.
He said that there needs to be a "total investigation into Guyana and let us see who did what to who and when and why."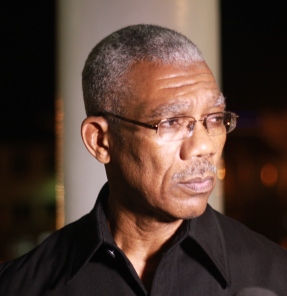 The question of an apology has resurfaced here after Granger was recently asked in Queens, New York about the PNC issuing one in relation to its term in office from 1964 to 1992. Granger rejected the call for an apology at the forum held at the home of a Guyanese in Richmond Hill.
"Every government everywhere makes mistakes and no one has denied that mistakes might have been made…if any group feels that errors have been made we can have those errors investigated and we will deal with the consequences when they are brought to light," he added.
During the years 1964 to 1992, the party had been accused of rigging elections and according to the opposition leader if there are persons who feel that the elections were rigged there can be an inquiry.
"If, for example, you feel that there has been a killing of persons, elections which have been tampered with, I told the people in Queens let us investigate all the elections right up to 2011 and if errors are found let us deal with those. Let us have an inquiry, let us have the evidence and I will decide where we go from there," he said.
He added that there were other parties who have things to apologize for. "I was in Rupununi in 1969 and all the leaflets and flyers were from the United Force (UF). I know that the leader of the United Force was in there just before Christmas…Nobody called the United Force to apologize," he said.
"They (UF) led an armed rebellion against the State of Guyana. TUF has never apologized. Everyone can look into the history and we can have a pile of apologies. There is no innocent in TUF or the PPP," Granger said.
The leader was also asked about his position in light of several letters appearing in the daily newspapers on his position on race and politics and said that there has been some level of misinterpretation of his meeting in New York on Independence Day.
"What happened in Queens and Richmond Hill over the Labor Day weekend was that people were able to speak frankly to the leader of the opposition and I listened to their concerns and they listened to what I had to say," he said.
He explained that APNU, as a partnership, embraces parties and social groups.
His party, he said, was "not trying to erase the differences but we are accepting the reality of contemporary Guyana…Trying to take a racial line with them doesn't make sense. 20% of the population say they are mixed… We are not trying to obliterate ethnic differences or ignore ethnic differences."
Around the Web