By Dacia Whaul
After being missing for three days, teen taxi driver Dhanraj Latchman was found dead in a shallow grave near Parika backdam yesterday.
Police confirmed the discovery last evening, after Latchman's disclosed that suspects who had been held in connection with the 17-year-old's disappearance had led the lawmen to his body.
Two persons, a man in his 20s and a 17-year-old, who were Latchman's last passengers, were held on Thursday. Earlier that day, the car that the teen had been driving, PMM 9823, was found at Parika. Relatives said a long knife was found in the back seat and the driver's seat belt was severed.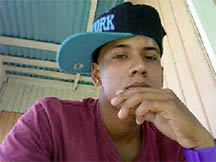 Latchman had left his Lot 115 Lusignan, East Coast Demerara home at 5pm on Tuesday, after he was hired by the man and the teen to take them to Parika.
His mother, Taramattie Daby, earlier yesterday had voiced her suspicion to Stabroek News that the passengers on the Parika trip had knowledge of her son's location. "I feel they know what happened to my son," Daby said yesterday morning.
Daby further mentioned that the 17-year-old passenger, upon being approached by police, had started to cry. She added that an older male was seen urging the teenager to maintain that he knew nothing. However, she said the two passengers were telling both the police and the boy's family different stories of what happened.
The distraught mother said that the last time she laid eyes on her son was on Tuesday at 5pm, when he was hired to take two young men from the community to Parika. "Me keep calling he all the time while he going up," Daby stated, explaining that she kept calling to ensure the teenager was okay and on all occasions he assured her he was.
She said the last time he spoke to Latchman was at 8pm, when he had arrived in Parika. It was on that call, Daby said, that she asked Latchman who he had transported to Parika and he named the two passengers. Additionally, she said Latchman told her during that last call that he was awaiting his passengers, who in turn were waiting to collect some money from a man there.
Before that call ended, she said she asked Latchman to buy her food when he was returning home. However her son nor the food ever arrived.
At 10pm, the mother said, she became worried and decided to call her son's cellular phone but the phone was off. She immediately tried the other number he had called her on but the phone was off as well. That was followed up by a visit by her husband to the home of one of Latchman's passengers. However, "nobody ain't come out," she said, adding that subsequently someone peeped out and informed her husband that no one there had hired her son, nor did the person who hired him live there. The persons also said they did not have contact information for the person.
Daby said when her husband returned and narrated what had transpired, she advised him to go back in her company. She said on the second visit the mother and father of one of the passengers her son took to Parika came out and informed them that they had no knowledge of their son being transported by Latchman. At that point, Daby said, the mother went into her house to ask her son, who after some time emerged and stated that he did not hire Latchman to go to Parika. She said the young man later changed his story and told her that he had hired and paid Latchman nine thousand dollars but the young driver had dropped him off at the budget Supermarket on the Lugisnan Public Road. Daby said she immediately asked where her son went after the drop off but the passenger, who initially told her that he had no knowledge, later stated that Latchman had left the supermarket with two males in his car, heading to Enmore to buy fast food. After receiving the explanation, Daby returned home and on Wednesday evening, she visited the Vigilance Police Station to report her son missing.
Around the Web