A 65-year-old businesswoman was today found dead, bound and gagged to her bed in her Albouystown home following a robbery.
The woman, Sumintra, who was known as Sumintra Dinool up to a few years ago before her divorce, was discovered dead by her 42-year-old son who lives with her but was out all night and returned early this morning. The man was questioned by the police but was released later.
The police also said apart from the house being ransacked, electronic equipment and cash were also reported missing.
According to the woman's ex-husband, Sheik Dinool, who lives just two houses away from his wife's Barr and Sussex streets home, it was just around 5:30 am his son alerted him to the woman's death.
"He come and call me 'Daddy, daddy' and right away from the sound of his voice I know something wrong and then he tell me how he mother dead," the man said in an interview with this newspaper outside of his ex-wife's home.
The man said he called another son who lives in the area and they rushed over and he was shocked to see his ex-wife in such a state. He said the woman was dressed in her sleeping clothes and was flat on her back on the bed with her hands bound above her head and tied to the rail of the bed. Her feet were also bound together and then tied to the bed. Cloth was also stuffed into her mouth but there was no visible mark of violence on the woman's body.
"After we cry up and suh we ring the police. Is me ex-wife but I still cry to see she like that. It is not a nice something to see," the man said, in a still obvious state of shock, hours after the woman's body was removed by the Lyken's Funeral Home.
He said the house was in a state of confusion and it was ransacked. A 32" flat-screen television set was missing but the man said because he did not live with the woman he could not say what else was taken.
According to what he was told by his son, he got home and all appeared well as the front door to the house was still locked and he used his keys to get in. It was not until he entered his room that he realized that something was wrong as it was ransacked. Upon checking on his mother he made the shocking discovery.
Dinool said he believes it was someone who knew the woman who committed the act as they entered through the back.
"I believe the person call out to her and she pull the blind and when she see is who she open up the door and is then the thieves them must be run in."
He said there was no visible sign of forced entry, noting that the woman would not have left the door open because she was security conscious.
Dinool said he and the woman have been separated for quite some time but they share four children. The woman owned stalls in the Vendor's Arcade and Dinool said she had been living at the said address for about 46 years and had never been robbed.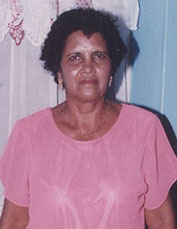 Around the Web