The prisoner who was attacked on Saturday in the New Amsterdam Prison is still critical in the New Amsterdam Hospital's Intensive Care Unit (ICU).
According to Shameeza Ali, Tameshwar 'Rambo' Khemraj's reputed wife, her husband is showing slow signs of recovery. Ali said Khemraj is being fed nutritional substances through a tube.
This publication learnt Khemraj sustained several stab and chop wound about his body, including to his neck and feet. It was also reported that Khemraj sustained damage to his lungs.
Khemraj's mother said he told her that if the prison officers had not intervened he would have died.
Meanwhile, Ali said on Saturday morning she was telephoned and informed of the attack by one of her husband's friends.
She said she was told that on Friday Khemraj and another inmate had an argument and he hit the guy. On Saturday, she said, he told her he was alone in his cell as his cellmates were out completing chores when he was attacked.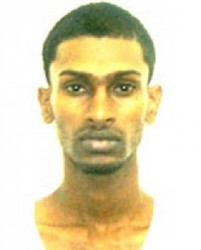 According to reports, the 28-year-old man of 171 Nigg Village, Corentyne was attacked by three other inmates on Saturday morning. A source had told Stabroek News, the argument stemmed from some old problems with one of the two brothers accused in the murder of a Corentyne businessman.
Khemraj's attack is the second recent one in the New Amsterdam Prison. On May 23, Abdulsalam 'Sato' Azimullah, 31, of Hampshire, Corentyne; Davendra 'Bara' Harri-charran, 28, of Nigg, Corentyne; Kwame Bhagwandin, 32, and Clarence 'Wild Hog' Williams, both of Angoy's Avenue, New Amsterdam, were attacked by five other inmates who were armed with acid and cutlasses. According to a source close to the prison, one of the attackers, 'Shoulder' had indicated to a prison warden that he wanted water.
The unsuspecting guard opened the door to the cell to facilitate his access to a bottle of water and when the warden's back was turned, the convict reportedly choked him from behind until he was unconscious.
The source explained that 'Shoulder' then took the warden's master key and opened several cells, freeing his four accomplices.
The source said the quintet then strapped themselves up with pieces of cloth, picked up cutlasses and a metal container which had acid and proceeded to the cell housing Bhagwandin, who was doused with acid and chopped about his body before being left to die. He sustained the most serious injuries in the attack.
Relatives have questioned the level of security at the prison.
Investigations are ongoing.
Around the Web