The investigation into the burning of Junior Thornton's hands while in custody at the Sparendaam Police Station last month is on pause as the police await a medical report from the Georgetown Public Hospital, while the teen who has since been discharged said he is living in fear.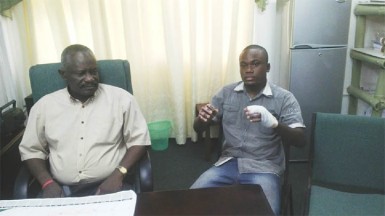 According to a police statement released yesterday, "the file in the Junior Thornton matter, which had allegedly occurred at the Sparendaam Police Station, had been sent to the Chairman of the Police Complaints Authority without the medical report… the Guyana Police Force wishes to clarify that so far efforts to obtain the medical report from the authorities at the GPHC have been unsuccessful."
The release said officers of the Police Office of Professional Responsibil-ity (OPR) had been making continued efforts to acquire the said report and as recent as yesterday, were told to return on Friday.
Contacted, the hospital's Chief Executive Officer Michael Khan said, "I have my hospital to run. They can't interfere with my policies and procedures." Khan explained to this newspaper reports take time and the police need to respect the policies of the hospital.
Meanwhile Police Complaints Authority Chairman Cecil Kennard told Stabroek News yesterday that though he has arrived at a "provisional view," the medical report has to be examined before a recommendation is given. He further mentioned that two ranks are likely to be charged in the matter.
Thornton, 19, of Lot 1 Eastville Housing Scheme, Annandale, East Coast Demerara, told Stabroek news yesterday that he is now confined to his home, because, "I fear for my life and I am scared of the police. And I am saying this because that is how I feel inside." He said his family has since advised him to avoid going out.
Thornton was burnt between May 25 and May 27 while he was in custody at the Sparendaam station. The teenager also complained that he was denied medical attention and food while he was in police custody.
Speaking at APNU's headquarters yesterday, Thornton said that on May 25, he was resting on a pile of sand in the vicinity of Better Hope and Plaisance with his puppies when, "some police came up to me in plain clothes in an unknown vehicle." He said a man who identified himself as a policeman, approached him and ordered him to put his puppies in the trunk and to enter the vehicle. He described the vehicle as "dark coloured," and "tinted." Thornton said he was returning from a friend's house at Plaisance with his puppies, after a failed attempt to have them stay there. He explained that his grandmother did not want the puppies at her residence.
"I went into the back seat of the car," the teen said, "and they drove me to Sparendaam Police Station." He said when he got to the station, they told him that he was charged, but did not name an offence. Additionally, he said, he was made to write his name on a piece of paper. "I didn't know why I had to write my name on the paper," Thornton said, adding, "but I did anyway." He said he was then "escorted to a cell."
He said while in the cell, he had a scuffle with another detainee and subsequently policemen entered the cell and "and they beat me." After the beating, Thornton said, he was hand cuffed and forced into a dirty cell, which he resisted. "So they burnt my hands with methylated spirits," he recounted, "and that was when I pull my hands in, because it was in between the door." He said his hands continued burning until the methylated spirits dissolved. However, he was unable to say which officers burned him.
'Awesome powers'
APNU Member of Parliament Winston Felix who appeared alongside the injured teen, opined hat the police have "awesome powers of arrest," but noted that the arrest must be with cause. The former commissioner of police, questioned the police on the offence Thornton was arrested for. "Have we moved away so far from procedure?" Felix asked, as he described the actions of the police who denied the teenager, "one phone call to his father or grandmother. Has this procedure become so ancient that it is no longer in use?"
The retired lawman said he was aware that legislation was passed a few years ago to give the police the facility to continue investigations for three days, as opposed to the 24-hour detention limit. Felix explained that the three days were thought to be sufficient and in the event it was found to be insufficient, the police are required to "apply to a judge for an extension."
In addition, Felix said the police "seem" to have done an investigation. He said since Thornton did not know who burned him, "I know the police on that part."
He reasoned that someone had to have seen the teen, who was detained for three days. "So somebody had to be admitting him into the inquiry office," Felix argued. "Shifts had to change, officers, inspectors and sergeants to visit the station. So somebody got to tell me what are the failures in those days," he stated, adding, "and who gon pay for it?"
He reiterated his contention that "they [the police] done feel case shut, [but] they talking to Winston Felix this time."
Around the Web