Innovative marketing techniques aimed at utilising social media platforms to address the advertising stagnation that is currently the Guyanese landscape, is the backbone of Market Square.
Co-founders of the marketing agency Christine Gooding and Akilah Mancey are up to the challenge, knowing that they are branching into new territory. Both young women have backgrounds in marketing, but are looking toward branding and the reinvigoration of a lost art in Guyana.
Speaking to Stabroek News, Gooding acknowledged that they were up to the task. Through extensive market research and aggressive campaigning she said, the fledging business was already handling both local and overseas clients.
Gooding said that Market Square, which launched on April 7 was registered as a business just four days prior and the groundwork began just two weeks before that. "It all just came together," she said, adding that this wasn't her or Mancey's first venture into entrepreneurship, but it has been progressing smoothly.
The company has linked with social media as both young women acknowledge that media such as Facebook, Instagram and Twitter are more accessible than traditional advertising mediums. Gooding noted that with the influx of cable television local channels struggle to compete for viewership, but that does not mean client strategies would not be specifically tailored to suit individual needs.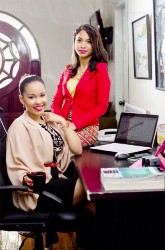 She said television and print media have a devoted following and depending on the client were still being used. "We are using the most effective [media] and advising our clients [likewise]," Gooding said. She said progressive trends showcase that to obtain new customers and to gain exposure social media needs to be developed and utilised by businesses, because to put it plainly that is where the customers are.
"We are not conventional or traditional," Gooding stated highlighting that Market Square's marketing strategy is to tailor an idea and a concept that will refocus a client's needs and how to best achieve success. She said there are already challenges in a system that is not used to change and encouraging businesses to think outside the box is something Market Square will need to prove is an asset in the future.
Currently, the company is focusing on overseas-based client, the Chutney Foundation of Trinidad and Tobago which has hired Market Square to plan and execute the first Chutney Soca Monarch Festival in Guyana. Gooding said having a high-profile client would boost the emerging brand's potential and allow local companies to see the impact marketing strategies have in growing business and acquiring new customers.
"Cloud Nine Inc, which is a lighting effects company, was our first local client; it was our first paycheck," Mancey told Stabroek News. She said Market Square was currently in talks with Royal Castle Guyana, "we are proposing to do an overhaul of their marketing."
Mancey, who was previously involved in other social media based marketing ventures, said that doing the research was critical to assessing the climate. She said that as young women starting out they were not blind to the fact that the work would be need to be innovative, creative, and impactful.
Mancey and Gooding have a good sense of identity in understanding the current business climate. Mancey explained that they had worked with a government entity in the preliminary stages of an event and it was a learning experience. She said everything that has come their way was teaching them, helping to grow their business and evolve their brand. "We are young women, but that doesn't mean we are going to let people take advantage," she stated.
Turning to some of Market Square's other ventures, Mancey revealed that three Facebook pages have already been set up to increase public awareness in specific areas. 'Where's Cookin What' (https://www.facebook.com/
WheresCookinWhatG) encourages restaurants and businesses to offer online menus in a concise location so consumers can access the page and locate food they are craving. 'What's Happenin Where' (https:// www.facebook. com/WhatsHappeninWhereGY) is devoted to different nightlife experiences and not just confined to clubs and bars, but will be an access point for family events around the city. 'Who's Sellin What' (https://www.facebook.com/WhosSellinWhatGY) provides a single place for businesses to interact with consumers without additional costs to manage an individual site.
Mancey said the various Facebook pages were developed for the use of Market Square clients as well as businesses that feel they could use a boost in advertising. Currently Market Square offers three pre-existing packages and for just $200,000 a month effectively runs a marketing department, inclusive of website management and platforms on all available social media sites with customized advertising. The company's basic package is $60,000 a month and its standard package, which includes public relations and executing of radio advertisements and extension of social media platforms and website maintenance is $160,000.
Gooding told Stabroek News that the goal was to show businesses that a marketing agency can effectively manage the direction a business is going without the costs associated with having an in-house team especially for new businesses now starting and established businesses that are looking to improve their current marketing direction.
Both young women acknowledged that the costs associated with the various packages is something that has offered the most feedback from potential clients, but Market Square is not discouraged. The young women are excited both stating during the interview that they were "ready, waiting and anxious," to take on what Guyana has to offer with a level of professionalism and work ethic which is refreshing.