The Guyana Telephone and Telegraph Company (GT&T) has launched its new Shop'n Go feature, which allows subscribers to use their mobile phones to make wireless payments.
Eshwar Thakurdin, Managing Director of GT&T's Mobile Money Guyana initiative, said at the launch at Herdmanston Lodge yesterday that 70 merchants had already signed up with the service. He said the initiative was to facilitate customers with an ease of financial payments.
"When someone else is fumbling with cash… you just pull out your phone and say, 'I'll just Shop'n Go, thank you.' Complete your payment in a few seconds and you're on your way," he said, while noting that the aim of the Mobile Money initiative is to provide simple, reliable and affordable mobile financial solutions.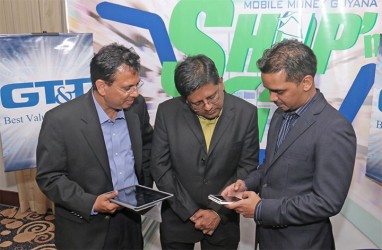 He highlighted the safety that is attached to having large sums of money on a mobile financial service and the security of a personal identification number technology. Thakurdin noted that the safety and convenience were priceless.
Speaking at the launch, Finance Minister Dr Ashni Singh said that there was no reason for anyone to be carrying around large sums of cash any longer and that Guyana needed to move away from a cash-dominant environment.
Singh lauded the safety features in financial transactions attached to a mobile service.
The Shop'n Go feature allows for customers to use coded system at any participating merchant that allows for quick and wireless payment.
During the launching of the service, it was demonstrated to those in attendance. Some of the merchants attached to the service include Ashmins, Beepats, and Starr Computer.
The service is not limited to the Georgetown and greater Georgetown area as merchants in Berbice, such as Supa Value Supermarket and Imran and Sons, have also signed up.
Nigel's Establishment based out of Linden will also soon be one of the merchants attached to the service.
Customers interested in signing up for Shop'n Go will need their ID and proof of address to initially sign up for the service.
Around the Web