Over the years, the Guyana Defence Force (GDF) has been aiding the forgotten Cashew Island Amerindian community, teaching the children to speak English and to read and write.
Cashew Island, located in New River, Region Six, approximately two and a half miles from Base Camp Jaguar, is a community with an average population of 80 persons, including children, the GDF said in a news release. "Prior to 2011, there was no school in the community and the persons there spoke their traditional languages, Trio and Wai-Wai.
The toshao of the community, Kenke Yiamo, who has functioned as a guide for GDF personnel during patrols, requested the Force's assistance in teaching his people," the army said.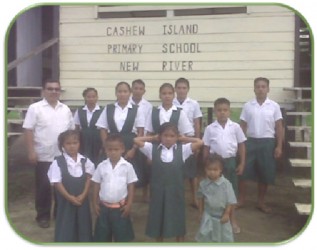 As a result, the GDF employed Major (ret'd) Ivan McNaughton and his wife Yvette McNaughton, a trained teacher, to teach the children of the community. They are being taught reading, basic mathematical and composition skills.
"When we first started, it was very difficult for us to communicate with them. Language was the major barrier. Today, even the little five-year-olds understand English. Those who have absorbed the language faster help each other during test time with translations. The parents are also very eager to have their children learn," Major (ret'd) McNaughton was quoted as saying. He added that even though the school population is small, the work is substantial.
The army said that four of the older children have since been brought to Georgetown to pursue vocational training.
In addition, the teachers have also implemented evening classes at the school for several parents who are being taught reading and basic mathematics. "Our biggest wish is for the children in particular, to learn to read and write properly so that they can come out to further their studies. It is my hope that they will return to their communities to help out as skilled people are really needed there," McNaughton said.
The statement said that the GDF has been the driving force in contributing to the welfare of this community, from the provision of employment and infrastructure to medical care. It said that the GDF actions on the lives of the members of the small Amerindian Community in Region 6 will have lasting benefits.
Around the Web