Former MFK Trading boss, Mohammed Khan, who was shot three months ago by a gunman, is feared missing after he failed to contact relatives when he travelled to the interior for business.
Khan, 54, was last heard from on August 21, four days after he had arrived from Venezuela to transact business, according to a former employee who spoke to Stabroek News yesterday on the condition of anonymity. He said that he last saw Khan on Monday and was supposed to meet with him later that week, but after Khan never contacted him,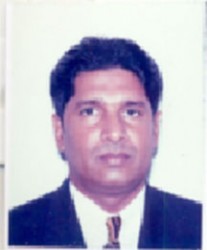 the former employee said he figured the man had returned home. However, the former employee mentioned, he only became aware that Khan had not contacted relatives, when he received a call from the man's wife in Venezuela, enquiring about his [Khan's] whereabouts. A missing person report was filed with the Guyana Embassy in Venezuela. A notice also appeared in yesterday's edition of Kaieteur News.
Khan was shot in his stomach on July 9, in what he said was attempted murder, in front of a masjid in La Grange, West Bank Demerara. He had stated the belief that a hit was out for him because he had returned to Guyana to claim money that had been owed to him by another businessman who was giving him a hassle to pay off. Additionally, Khan had told this newspaper that he had reported the matter to the police as a robbery, for fear that the gunman, who he feels was sent, might make another attempt at taking his life.
All efforts to reach Khan's relatives yesterday proved futile.