A Berbice man was stabbed to death during the wee hours of Saturday morning after intervening in a row between his niece and her common-law husband.
Surujpaul Ramnarine, 51, of Blairmont Village, West Bank Berbice, was stabbed in his chest and was pronounced dead on arrival at the Fort Wellington hospital at around 1am.
At the time of the stabbing, Ramnarine and other family members were gathered at wake for his mother, who died last Tuesday.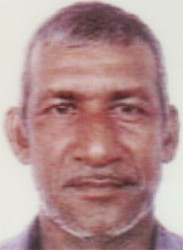 According to a police statement on the murder, Ramnarine intervened in an argument between a female relative and her common-law husband at Rosignol, and was stabbed to his chest.
His assailant fled after the stabbing and has since gone into hiding.
Ramnarine's family is fearful that the assailant might escape to neighbouring Suriname and lawmen would not be able to apprehend him.
The niece at the centre of the fatal argument was also not seen yesterday morning and there were fears that she too might have gone into hiding.
Seenarine Ramnarine, the brother of the deceased, told reporters that although he witnessed the stabbing, he was unable to save his brother as everything occurred within minutes.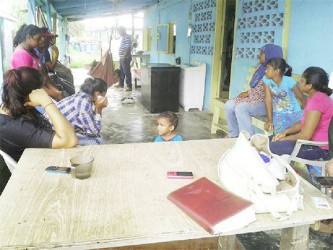 According to Seenarine, the assailant had been seen with the knife in the hours leading up to the altercation and he had even made known his intention to use it on Surujpaul.
Seenarine said the man told him if Surujpaul "only wrong talk" he would stab him. "…And I asked him why he would do da… the man does only talk he nah mean nothing," he observed.
The grieving brother lamented that around 12:10am, his niece and her husband had an argument on the road in front of the house. She subsequently returned into the yard. This prompted Surujpaul to approach the man and to ask him why he was cursing the woman and whether they had any respect for the dead.
Seenarine said as the two men argued he looked on and saw his in-law pull his knife. "He jus mek so, straight in he lungs. And meh say, 'Patto' yo bore mi brodda!' An' 'Patto' start fo run. All bady try fo hole he but he run goway," he recounted.
Family members, upon seeing the severity of Surujpaul's wound, placed the man in a bus and rushed him to the Fort Wellington hospital. On the way there, Seenarine checked his brother's pulse several times and did not find it. He explained that he nevertheless retained hope of his brother being alive but it was not so when doctors later confirmed the family's worst fears.
Seenarine also said that although they had been drinking before the altercation, his brother would never hit anyone while under the influence.
Surujpaul had earlier sent him to buy another bottle of rum but he had refused, leading his brother to get the rum himself. As a result, he said he took some of it to prevent Surujpaul from becoming drunk.
"He got lil bad behaviour but he na knock nobody. He does talk words," he explained. Surujpaul's daughters also said that he was not a person who would start a fight when he drinks and he mostly drank at home.
Surujpaul, his daughter Vannie Ramnarine said, worked as a labourer in the backlands on a rice farm. She added that he lived with her at Blairmont and would return every fortnight. He was expected to be out for a few days before Christmas but due to his mother's death he had returned. She said her father had promised to spend time and treat his grandchildren and six children for the Christmas holidays.
Surujpaul had lost his wife and the mother of his children a few months ago. The family also stated that in October, he had lost a cousin, whom they believed was murdered since a post-mortem examination showed that he died from suffocation and had marks of violence on the upper part of his body. Vickram Ramnarine, called 'Boy,' 29, of Lot 56 Bennett Dam, Rosignol, was found floating in a canal at Abary, West Coast Berbice. No one was ever arrested and the family called again yesterday for justice.
Around the Web