Desmond Thomas who allegedly broke and entered a property and stole over $1M in cash and items was on Friday refused bail after he appeared in a city court also accused of drug trafficking.
On December 13, at Nandy Park, East Bank Demerara, Thomas being in the company of others allegedly broke and entered the property of Premchand Roopnarine and stole a quantity of items and cash amounting to a total value of $1.276M.
At Bagotstown, on December 16, he was charged with having in his possession 36 grammes of cannabis for the purpose of trafficking.
He pleaded not guilty to the charges read to him by Magistrate Annette Singh at the Georgetown Magistrates' Court.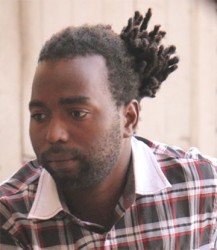 Attorney Adrian Thompson represented Thomas. In a bail application, he submitted there was no evidence against his client. The man, he said has a fixed place of abode at 47, Norton Street, Bagotstown and is a mason by profession, who has fathered one child.
Counsel pleaded for the court to exercise discretion and grant bail in a reasonable sum for his client since, no identification parade was held and the only evidence which is before the court is that someone claimed they saw him, amongst the group entering Roopnarine's premises, while noting there was no evidence even in a caution statement.
However, Prosecutor Adduni Innis, objected to the defendant being granted bail, citing the nature and gravity of the offence. She stated that neighbours saw the defendant coming out of a white car and entering the premises while highlighting the missing items were recovered at his home.
Innis in relating the facts of the trafficking charge again objected to bail. She stated police ranks in plain clothes were conducting a raid in the area when they sought permission from the defendant to search his premises. During the search the narcotics were found in one of the defendant's drawers in his home.
Thompson, in his submission had said a number of persons live in the house and a search conducted on the person of the defendant came up empty handed.
The prosecution's objections were upheld and Thomas was remanded to prison until December 29, and his matter was transferred to the Providence Magistrate's Court.
Around the Web