Already delayed by a day, Dynamic Airways passengers who were flying from New York to Georgetown boarded their plane at JFK yesterday morning only to discover that there were no pilots on board.
New York Transit Police were later called in to investigate and passengers were told to disembark and that their bags would be returned to them. Up to press time there was no statement from the airline on what had happened.
Just a month after it was given the green light to restart its services Dynamic Airways continues to be plagued with problems and some passengers are complaining that it appears as if they would not make it to Guyana for the holidays with little or no explanation from the airline.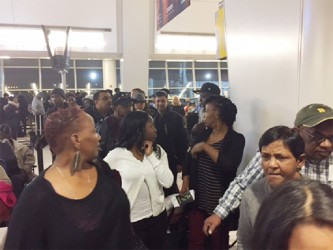 The airline's local partner Captain Gerry Gouveia in a message on his Facebook page over the weekend indicated that the flight was delayed for 24 hours and that it was scheduled to arrive in Guyana early yesterday morning.
However, that was not the case and as angry passengers continue to complain, this newspaper was unable to make contact with Gouveia. Since the airline's return to the market on November 22 it has encountered a series of problems.
According to Gouveia, the initial problem over the weekend was due to an unanticipated maintenance delay and as such the additional flight that was added by Dynamic to handle holiday passengers was delayed by 24 hours.
"To alleviate the inconvenience, passengers are being accommodated with hotels, meals, and transportation," the local partner said.
He added that it was a 24-hour delay while apologizing "for any inconvenience caused but safety is always our first priority."
However, one woman commenting yesterday on the post made by Gouveia and to which he did not respond stated that her flight was delayed from Sunday night and she was told to return Monday but after she had boarded the plane the passengers were told the flight was delayed again.
"They're not courteous. In all that time, I got some water and some juice. Now they're telling me that the flight will be on for tomorrow (today) 1 am, knowing it's not approved. Will this be another cancelled flight? You have enough time to charter a new plane for tonight," the woman said.
Meantime, Sukree Boodram, founder of Caribbean American Domestic Violence Awareness, told Stabroek News that she has several family members who were supposed to visit Guyana for the holidays and a wedding but were unable to make it on the airline.
As of 8 am yesterday, Boodram said passengers who were told to check in at 9 pm on Sunday for a flight departing at 1am, had not left New York. She revealed that they did not board until the wee hours in the morning and some wheelchair-bound passengers were loaded but were later taken off the plane.
The passengers were later told that they would board at 6 am yesterday and they did but when they got on there were no pilots and no answers as they sat on the plane for hours.
"New York transit police were called [and] investigated the event. [The] police disembarked the plane and at of 8:30 am [yesterday] the passengers were told that they will get their bags back…" Boodram said adding they were not told how this would be done.
She said that the passengers were becoming frustrated as they had no food or anything to eat or drink all night and no airline official kept them updated on the status of the flight
The airline had a troubled entry into the local market in June, after numerous problems beset its inaugural flight from the Cheddi Jagan International Airport, Timehri and its subsequent grounding at JFK International Airport in New York for a series of violations.
As a result, it was forced to use alternative airports in Connecticut and New Jersey to transport passengers to Guyana. The United States Department of Transportation (DOT subsequently pulled Dynamic's operations approval, giving it up to August 8 to get its business in order. It was cleared to return to the market but problems have since continued.
Around the Web