Armed bandits carted off just over $2 million and other valuables during a brazen daylight robbery at a Vryheid's Lust, East Coast Demerara business yesterday.
According to Narine (only name offered) who identified himself as a car dealer, at approximately 1:30pm yesterday, as he and his wife were entering their Vryheid's Lust home, two bandits, one of whom was armed with a gun, approached them and demanded a bag which contained $2,027,000 which the couple withdrew from a city bank earlier in the day. The traumatized businessman told Stabroek News that the intruders also robbed him of a cellular phone, his licenced firearm, driver's licence and other valuables.
Another relative who spoke on the condition of anonymity, said that the two men after the robbery, jumped into a silver/grey Toyota Premio and drove south into a nearby street. However, the relative said that the two bandits and the driver of the car abandoned the vehicle after they realized that the street they had entered was a dead end. That relative stated that the three men made good their escape through a narrow passageway.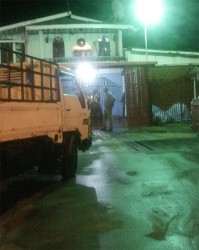 From all indications, it appears that the couple was traced from the time they left the bank in the city. An eyewitness noted that the men appeared to have been waiting near their home, since a similar car was seen parked in the area sometime before the crime.
When asked if anyone outside the family knew of their trip, Narine said no one was privy and suggested that the bandits had to be trailing them from Georgetown. In frustration, Narine declined to provide further information about the attack as he opined that recounting the event to the media would not restore his losses.
Eight days ago, another East Coast business, the Lahago Supermarket at Montrose, ECD, suffered the same fate, when armed bandits Warren Blue and Mahendra Sukull entered the business and demanded cash. Blue and Sukull were shot dead while attempting to escape. The proprietress of that business, Latchmie Baburam, was shot and injured by one of the two men.
When the police arrived on the scene, they met only an abandoned car in the dead end street. Statements were then taken from Narine and his wife.
When contacted, the Detective Officer in charge of crime, Superintendent Rishi Das said that investigations into the matter continue.
Around the Web