Floyd Drakes, 30, the third victim in the Tuschen, East Bank Essequibo triple murder was laid to rest yesterday while the suspect, Joshua Franklyn, 45, is still on the run.
Franklyn had also reportedly murdered his mother-in-law, Bibi Zalima Khan, 55, and step-daughter, Ashley, 9. They were laid to rest last Friday. The trio died as a result of "multiple incised wounds."
Franklyn had allegedly also badly wounded his reputed wife, Geeta Boodhoo, 30, who is still in hospital.
Meanwhile, there were reports that Franklyn's 20-year-old son, Jimmy whose home is located immediately behind the house where the murder took place, had held onto Drakes as he tried to escape.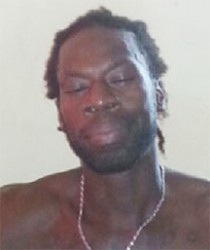 Contacted for an update, Commander of 'B' Division, Ian Amsterdam told Stabroek News last evening that the file has been sent to the Director of Public Prosecutions for advice pertaining to charges.
The son's reputed wife had however told this newspaper that they were not at home at the time of the murders.
She had said she suffers from asthma and was not well and Jimmy had accompanied her to spend the night at her mother's house at Stewartville.
According to her, the police broke the lock on their door after the killings and ransacked the home. Her reputed husband was subsequently arrested.
Her mother, Roxanne said that around 2 am Jimmy received a call that his father had murdered the three persons but she told him not to go anywhere at that hour. She said he waited until the "place start to get bright" to visit the scene.
Reports are that Franklyn who turned 45 on Wednesday and the woman who were together for seven years would constantly fight. She made reports a few times at the station about the abuse and threats and he was arrested and charged.
His sister, Joycelyn Fraser, 40, told Stabroek News that her brother was last locked up in October and placed before the court.
He was remanded until last month and upon his release, he was ordered to keep his distance from the woman. He then started staying at a brother's home at Vergenoegen.
The matter had been scheduled for March, 2015 and his sister said she had warned him to stay away from Boodhoo.
Last evening she said her brother had no right being there at the house and that he should have respected the restraining order from the court.
She has not seen or heard from him since the murders. She said though that one evening the police showed up at a relative's home searching for Drakes. They started firing shots even though there were children around, but came up empty-handed.  She had said that her brother was frustrated and felt he was provoked and "pushed to the limit. It wasn't easy that he had a house and couldn't stay in it… The laws of Guyana don't cater for men."
Around the Web