An unidentified woman jumped off the Demerara Harbour Bridge (DHB) yesterday, plunging to her death in the murky water of the river, sometime around 1 pm.
An eyewitness told Stabroek News that the woman, who he believed to be in her 20s and of Amerindian descent, made the fatal jump into the Demerara River, a short time after she was seen walking onto the DHB.
A source said the woman's body was pulled out of the river after an alarm was raised and placed into a boat under the bridge. The source added that she was clad in a pink top and long blue denim jeans. Moreover, this newspaper understands that the woman's handbag and shoes were found on the bridge.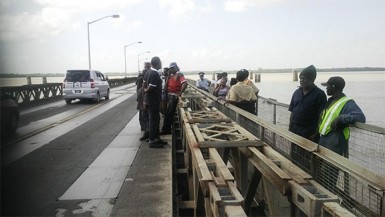 All efforts to contact the General Manager of the Demerara Harbour Bridge Corporation Rawlston Adams for a comment on the issue proved futile.
Police have since related that investigations continue and up to press time the body which was transported to the Lykens's Funeral Home, remained unidentified.
Around the Web