(Trinidad Express) Five leaders of Islamic organisations have called on Opposition Senator Faris Al-Rawi to provide proof that he is a descendant of the Holy Prophet Muhammad.
One imam went further, saying if Al-Rawi can prove that he has sacred lineage then he should be ashamed of himself because he drinks alcohol and eats pork.
Al-Rawi has denied he drinks alcohol or consumes pork.
The Islamic leaders' condemnation of Al-Rawi's comments on his ancestral ties has come following an exchange between him (Al-Rawi) and Attorney General Anand Ramlogan at the Senate sitting Tower D, International Waterfront Centre, Port of Spain on Wednesday.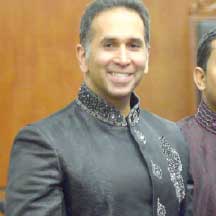 Ramlogan had asked Al-Rawi if he should bow to him because he was a descendant of the Prophet Muhammad, making reference to Al-Rawi's admission of this in an interview back in 2010.
Al-Rawi had indicated that his 43rd grandfather was a direct descendant of the Prophet Muhammad.
Islamic leaders held a news conference at the Nur Islam Mosque, El Socorro yesterday to condemn the "mockery" being made of Islam during the Holy month of Ramadan.
Imam Aazan Piprawala of the Debe Islamic Association said having heard the remarks on Al-Rawi's lineage, he contacted Mufti Waseem Khan, principal of the Dar Uloom Trinidad and Tobago Ltd who is also the Imam of the Warrenville Jama Masjid.
He said Khan advised that such a claim cannot be accepted until proof is shown and if present, the Dar Uloom will make a statement.
Piprawala said Khan indicated that it should however be understood that a person's claim to be related to the Prophet Muhammad has no special significance in Islam and it is all about the individual faith, practice, deeds and righteousness.
"When somebody has the audacity to claim that they belong to the lineage, a descendant of the Prophet Muhammad, peace be upon him, we ask them to prove it, one, and two, if they so belong they should be ashamed for having engaged themselves in fetes, going to the Parliament building and consuming pork and wine and intoxicants wherever they go to parties and so on," said Piprawala.
"If you claim to be a descendant of the Prophet Muhammad, peace be upon him, then he should never engage in that behaviour….he should be ashamed of himself if he is truly a descendant of the Prophet," said Priprawala.
He said that such comments can only serve to anger and outrage the Muslim community in the sacred time of Ramadan.
Prophet Muhammad is revered in Islam to be the last Prophet from Mecca sent by God to mankind and who unified Arabia into a single religious polity under Islam.
Comments
CARACAS (Reuters) – Venezuela's opposition-controlled congress yesterday rejected the self-proclaimed lawmaking authority of a new legislative body elected last month at the behest of President Nicolas Maduro, widening the political divide in the crisis-hit country.
APUI, Brazil (Reuters) – The small town of Apui sits at the new frontline of Brazil's fight against advancing deforestation in the Amazon rainforest, where vast forest fires belch jet black smoke visible for miles and loggers denude the jungle.

MEXICO CITY,  (Reuters) – Mexico's foreign minister is in Havana hoping to persuade Cuba, one of Venezuela's top allies, to help resolve the tense political situation in the beleaguered South American nation, according to a senior Mexican official briefed about the trip.
CARACAS, (Reuters) – Venezuela's new legislative superbody yesterday gave itself the power to pass laws, superseding the opposition-led congress and fueling criticism by government adversaries that socialist President Nicolas Maduro is consolidating a dictatorship.

(Trinidad Express) The treatment of persons at the Immigration Detention Centre is heartbreaking and inhumane says Khafra Kambon, chairman of the Emancipation Support Group.