A 20-year-old mother of one was shot and killed by her former reputed husband minutes before midnight on New Year's Eve in the vicinity of the Stabroek Market; the man has since been held.
Carlisa Matthews of Lot 2284 Flying Fish Street, North Ruimveldt was standing in front of her mother's stall at Stabroek Market, Water Street, Georgetown when her ex-partner, Jermaine Maynard of Leopold Street, called out to her.
Her mother, Carol Matthews, said Carlisa refused to speak to the young man but Maynard insisted that he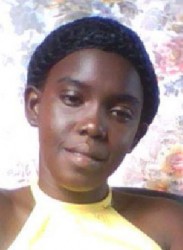 wanted to speak with her. She added that Carlisa subsequently decided to speak with Maynard, who was standing in front of KFC, but only to reiterate that she wanted nothing to do with him.
As she walked away, Maynard lit two fire crackers before allegedly shooting her at least three times to the back of the head, according to an eyewitness.
Maynard then fled the scene on a bicycle which belonged to an eyewitness, who said that Maynard drew the gun on him and forced him to hand over his bicycle.
Maynard was apparently trying to enter Suriname via the back track route, when he was apprehended at Springlands, Corentyne, Berbice yesterday around 9 am, according to police. He is currently in police custody.
Carol Matthews said she was not concerned about her daughter's safety when Maynard dropped by to speak with her, because it had become a norm for Maynard to stop by, shedding tears in an attempt to convince her daughter to reconcile with him. Carlisa had left the man about four months ago, her mother said.
Carol Matthews said she just saw her daughter's body pitch in an upward direction before landing on the ground, but at that point she could not fathom exactly what had happened. She said it took her a few seconds to process the fact that her daughter had been shot.
Carlisa's cousin said she received a phone call from Carol Matthews around the same time the incident happened. "I was asleep and I hear the phone ringing, when I answer, she mother been pun the phone and she de screaming loud and I couldn't understand what really she was saying, all I couldda hear is that Carlisa dead," the cousin said.
The cousin added that while Carlisa did not speak to her family about the problems she faced during her two-year relationship with Maynard, she was well aware of how rocky it was. She added that there were a lot of times when Maynard would continuously call her cousin's phone and she would ignore his calls.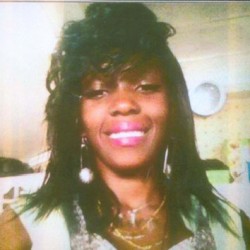 Carlisa's aunt, who chose not to reveal her name, said that her niece, who would have celebrated her 21st birthday on January 23, met Maynard two years ago on her birthday.
After they dated for a while, Maynard, believed to be in his late 30s proposed to Carlisa that they move in together, but once they started living together, Carlisa's aunt said, the abuse gradually started.
Recounting an incident which led to their separation, the woman said Carlisa was with her mother when Maynard called her on her cell phone. Because they had an argument earlier, she refused to speak with him. After repeated failed attempts to get through to Carlisa, Maynard proceeded to throw all of her belongings onto the road.
When Carlisa arrived at the home they shared and saw her belongings on the road, she decided that it was time to move out and move on with her life. She then collected her stuff and left, according to her aunt. This was about four months ago.
Shortly after the move, the aunt added, Carlisa was at Stabroek Market when Maynard approached her and proceeded to beg for her to return home. However, the woman said, this resulted in a heated argument and violent scuffle between the two, during which Carlisa was forced to defend herself.
Maynard, she said, reported the matter at the Stabroek Police Outpost, which resulted in Carlisa being arraigned at the Georgetown Magistrates' Court. She was charged with inflicting grievous bodily harm on Maynard. However, the charge against her was dropped after Maynard decided not to offer any evidence.
Family members said that they could not understand how she was thus charged since during the scuffle Maynard was simply scratched by a belt buckle.
Carlisa's aunt also highlighted that her niece had travelled to the interior to work about two months ago. While there, she said, she found peace of mind and a young man who treated her well and whom she was dating up to the time she was murdered. However, the aunt said, Maynard travelled to the interior, ill-treated Carlisa and forcibly brought her back to Georgetown.
As the year drew to a close, Sookdai Basdeo of Tuschen was stabbed to death allegedly by her reputed husband Mohammed Iqbal who has since been charged with her murder. On December 24, Sunita Lall of Leguan, Essequibo was stabbed to death by her husband, Yugindra Jagdai, who later committed suicide. And on December 26, 17-year-old Theianna Andrews of Moraikobai, Mahaicony, was shot to death allegedly by her spurned lover.
Matthews leaves to mourn her five-year-old son, her mother and other relatives. A post-mortem examination is expected to be performed today and she is expected to be buried next Wednesday.
Comments

Attorney, Dr Arif Bulkan is to be sworn in as an acting Justice of Appeal tomorrow.

GPL says that some of its customers on the West Coast and East Bank of Demerara experienced unusually lengthy power cuts as a result of heavy winds and rain last evening and early this morning.

Alliance for Change (AFC) leader Raphael Trotman yesterday said the diversion of billions to the security sector after the destruction of the Camp Street prison was partly responsible for the government not budgeting the full sum for severance payments to laid off sugar workers.

The police were up to yesterday afternoon still working to ascertain the motive behind the murders of Ambrose Baharally and Martin Godette, the Pomeroon farmers who were shot dead on Sunday and a potential witness was taken into custody to assist with the investigation.

Former President Donald Ramotar has accused the current government of accepting loans from India that he initiated except those pertaining to the rehabilitation of the sugar industry but State Minister Joseph Harmon says he is unaware of the claim and has urged that the former head of state prove it.