Training for members of the Special Weapons and Tactics Team (SWAT) by The Emergence Group (TEG) of the United States is expected to begin sometime this month, Minister of Home Affairs Clement Rohee announced yesterday.
The contract which was signed last year between the Ministry and TEG to the tune of US$796,987 (S163m) to establish the unit in the Guyana Police Force is intended to address special types of violent crimes.
Rohee in delivering the Ministry's progress report at the Police Training Centre also said that an organizational needs assessment for the unit has been completed. On the last day of 2012, Rohee had unveiled an ambitious programme to restrain crime. However, the latest police figures for November 2013 showed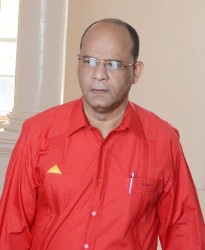 that serious crime was up. Critics have argued that Rohee's reforms did not address the fundamental problems of the force and initiatives like SWAT were unnecessary.
Rohee told the gathering yesterday that rehabilitation works were done in the sum of $4,490,325 at the Marine Wing of the Guyana Police Force and four aluminum boats and one 500HP work boat were procured at an overall cost of $64,926,104.
Two training courses for Coxwains for the command of Territorial Sea Patrol Boats were conducted from August 1st, 2013 to August 30th, 2013 and November 16th, 2013 to November 29th, 2013 at the Guyana Police Force Officers Training Centre. The Marine Wing was charged with providing Marine Enforcement and General Assistance to mariners within the riverain areas and territorial sea, to respond to emergency calls in relations to crimes on the waterways and to render assistance during search and rescue operations on the waterways.
Rohee stated that efforts are underway to develop a structure for the Aeronautical Branch and to source a Fixed Wing Aircraft for its operation. He also said that 14 applicants from the police force were interviewed and identified for training at the Aeronautical Engineer-ing School at Ogle, East Coast Demerara and are expected to commence training in 2014.
The forensic laboratory which should have been completed in April 2013 is 90% complete, he said. "Work at the Guyana Forensic Science Labora-tory is progressing. The laboratory should have been completed in April 2013 but due to delays experienced by the primary contractor, this was not realized. The project which is approximately 90% completed is now expected to be completed by February 2014."
He stated that equipment for the laboratory has already been procured and  installation will commence in January 2014, after uninterrupted power supply has been installed in the building.
In December, a US$1.688M ($346M) contract was signed  by the Ministry of Home Affairs and the Trinidad- based Western Scientific Com-pany for the supply of equipment for the lab.
The Minister also said that staff members for the laboratory have already been recruited. "The Director of the Forensic Laboratory was recruited in October 2013. That officer is now developing an Operational/Activity Plan from the Laboratory's Strategic Plan."
On the issue of firearms licences, Rohee told the gathering that the Ministry has requested the Attorney General and Minister of Legal Affairs to retable the Firearms (Amendment) Bill in the National Assembly. Regulations, he said, are also being drafted that will lead to the establishment of an electronically driven Firearms Licensing Management System, inclusive of the payment of a processing fee by successful applicants.
Crime
In an effort to analyze data collected from the Integrated Crime Information System, the minister said that new tools are being developed to determine the trends of crime and violence. One such tool, a GIS based crime mapping system can be used to integrate crime data with demographic and neighbourhood information, so that spatial patterns of crime can be unlocked and areas of concerns identified.
"In our efforts to produce crime maps we have purchased a satellite image of Georgetown as well as its surrounding areas, which was taken in July 2013. We have also contracted a GIS consultant to digitize this image…In 2014 the Ministry of Home Affairs will be able to give additional supports to the Guyana Police Force," he said.
Rohee also informed that two initiatives were launched by the Ministry in an effort to improve service delivery to the public and for persons who want to anonymously report a crime.
The Online Crime Reporting Systems which was launched in May 2012, he noted has had moderate success. The OCRS allows citizens who possess or have access to cell phones to report crimes to the GPF. A total of 149 reports he said were received in 2013.
The 'I paid a bribe' website that was launched in May 2013 to allow citizens to anonymously report on the website on corruption  has had a total of 58 reports made out against employees in nine Government agencies. These reports the minster said were forwarded to the relevant agencies for them to conduct their own individual investigations and take appropriate action.
TIP
With regards to Trafficking in Persons, the Minister said that a new National Action Plan (2014-2015) is being developed to guide the ongoing fight against TIPs. This new Plan seeks to reduce vulnerability especially among youths to the lure of traffickers, expand on sensitization and awareness, broaden the involvement of civil society in counteracting traffickers, strengthening the law enforcement response and ultimately eliminating TIPs.
"In 2013 the Ministerial Task Force on Trafficking in Persons (TIPs) waged a consistent struggle against trafficking in persons. The Task Force's activities were focused on the following specific objectives: to provide information about TIPs and safe migration to vulnerable communities; to improve cooperation mechanisms among key stakeholders to prevent TIPs; to enhance capacity of hinterland communities to prevent TIPs; to provide appropriate and comprehensive direct assistance to victims; to enhance capacity of stakeholders to identify victims and provide direct assistance through training; to formalize and strengthen the inter-agency protocol for responding to trafficking in persons; to enhance the capacity of law enforcement agencies to investigate TIPs; and to enhance cooperative and enforcement mechanisms among neighbouring countries to convict traffickers and protect victims, 'inter alia."
Comments

The Management of Cheddi Jagan International Airport Corporation (CJIAC) is currently undertaking a massive expansion project  and a Temporary Arrivals Terminal Building was recently constructed.

Tourism Minister Shamfa Cudjoe announced the decision to close the company. (Trinidad Express) The Tourism Development Company (TDC) has ceased operations.

Cevons clearing city garbage WPA STATEMENT ON THE UNRESOLVED ISSUE OF GARBAGE COLLECTION IN THE GEORGETOWN MUNICIPALITY The WPA is deeply concerned that the Georgetown City Council's inability to honour its financial obligations to Cevons Waste Management and Puran Brothers has the potential of endangering the health and lives of citizens.
British High Commissioner to Guyana Greg  Quinn  yesterday said that it was hoped that more would have been done to push the constitutional reform process forward.

A West Coast Berbice man died after he reportedly set his one-storey house ablaze sometime around 11.20 am yesterday.