A second area of the brittle Mahaica sea defence has crumbled.
The collapse came two weeks after sand bags were placed as a temporary fix on the dam which protects residents of Mosquito Hall, Mahaica from the sea.
Three days ago, a portion of the seawall caved in. Approximately six feet wide, the hole in the seawall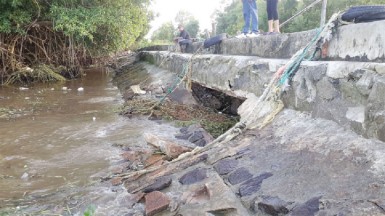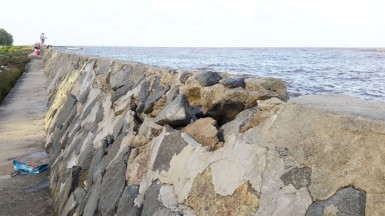 is causing residents of Mosquito Hall to worry about seawater at high tide. The hole has resulted from the seawall being undermined by the force of the waves.
One resident said that she is worried that the entire block of  the seawall where the hole opened up may soon come down and water will consume the community. "When that hole get bigger, ah seawall around that area guh fall down," a resident said.
When Stabroek News visited the area last Friday, sand bags were seen on the dam that had eroded and residents lamented that  the sand bags and clay employed to reinforce the dam were not enough. However, when this newspaper contacted an official attached to the Ministry of Public Works', Works Services Group, that official said that works were being done on the sea defence in the area but were temporarily interrupted because of the rainfall. He further said that work was expected to commence at the end of last week.
However, when Stabroek visited the area yesterday, residents said no one has since visited the area to conduct any works. They were eager to find out how long it would take to have a fortified sea defence structure.
Comments

An East Bank Demerara businessman was on Monday afternoon shot and robbed of an undisclosed amount of cash and valuables after he was attacked by two gunmen while at the traffic light on Irving Street, Georgetown.

Design contracts for sanitary landfills were yesterday signed by the Ministry of Communities for Bartica, Linden and Mahdia.
The police are looking for a North West District woman who is believed to have fatally stabbed her common-law husband in the Upper Pomeroon.

A Kitty woman is now a remanded prisoner after she was charged with possession of cannabis, which police say she tried to hide in a pillow during a raid.
The National Procurement and Tender Administration Board (NPTAB) was mum yesterday on the recent awarding of a US$154,154 contract to Trinidadian company, Western Scienti-fic, which was accused earlier this year of delivering expired or nearly expired drugs to the Ministry of Public Health.