PPP leaders yesterday argued that the condition of public servants have improved under the party's watch, with MP Manzoor Nadir saying that the average worker makes above the minimum wage and is able of taking care of his/her basic needs because of steps taken by the party to improve livelihoods.
The statement came during a press conference yesterday after PPP General Secretary Clement Rohee, who also attended the conference, was asked if salaries earned by public servants are enough to support their livelihoods.
Nadir told reporters, "I go to the market every Sunday; I know what it takes for a family of four or five to put food on the table, to put shelter and so forth. The average public servant, what they make would be very sufficient to put the basic and enable them to acquire some of the material goods every family wants," Nadir said.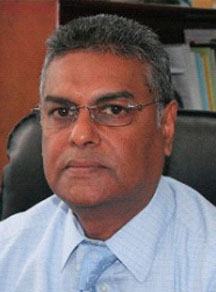 Meanwhile, comments made by Rohee in relation to the fact that Guyana's economy grew by 5% last year, although Rohee did not make the connection, also sought to back Nadir's offerings. He said that despite economic turmoil which has rocked economies since 2008, Guyana continues to do well when compared to its regional and international neighbors. He noted the specific challenges being faced by Barbados, Jamaica and Trinidad and Tobago, and said that Guyana has gotten away almost unscathed as a result of the developmental initiatives undertaken by the PPP/C-led government.
And the proceeds of the country's growth have trickled down to the average citizen, Rohee argued. He said that more people today than ever before own their own houses and/or cars, an indication that their wages and salaries, and by extension their disposable income, have increased.
What he neglected to mention is that the majority the cars and houses are being purchased via loan agreements. What this means is that it is the banks, and not the person who entered into the agreement with the bank, which own the houses and cars being purchased almost daily.
Rohee continued that the government invests heavily in initiatives, such as the uniform voucher programme in an effort to supplement the expenses families are faced with.
Nadir's statements as well as those from Rohee were aimed at shining light on what the party sees as the improved condition of the Guyanese worker in the face of the position of trade unions, which argue that workers are not satisfied.
Last November, Cabinet Secretary Dr Roger Luncheon announced that public sector employees would be receiving a 5% wage increase. The announcement was met with opposition by the Guyana Public Service Union (GPSU), and a promise by union leaders that massive industrial will be taken in the increase was not revised.
However, although there have been several instances of strikes at government institutions, including the Georgetown Public Hospital and the Guyana Geology and Mines Commission (GGMC), with the exception of one protest march which drew a crowd of about 70, such actions have consistently been poorly supported and have fizzled out.
It is Nadir's position that the actions called for by the union are not being supported by the people because the people do not perceive themselves as bad off as the unions are insinuating. According to Rohee, only a small number of people are of the opinion that Guyanese workers are not paid enough, and he said we should be careful not to take the feelings and positions of a small group of people as a representation of the majority position.
He added that the media, to some extent, are responsible for this since there was a tendency to focus on the protest of a few and try to make it seem like a national movement.
Instead of using their positions to genuinely advance the interest of their representatives, Nadir said, many union leaders use their position and power for political gains and other political reasons.
Their criticism of government, he said, is only aimed at pushing a political agenda, facilitating political allegiances, and misinforming the people about the actual development being experienced.
He said that it is easy to identify such unions as their utterances, those against government projects and otherwise, indicate that they are seeking to align themselves with the opposition parties.
Comments

Joe Root hit his 13th centuryfeatured   BIRMINGHAM, England, (Reuters) – England's Joe Root and Alastair Cook crafted superb centuries to lead the hosts to a commanding 348 for three on the opening day of their first day-night test against West Indies today.

A police officer helps evacuate people after a van crashed into pedestrians near the Las Ramblas avenue in central Barcelona, Spain August 17, 2017.
A post-mortem examination is expected to be performed on the body of housewife Janice Edwards, 38, of 121 'C' Field, Sophia, ECD, to determine the cause of her death.

A sketch of the proposed Curepe Interchange (Trinidad Guardian) China Railway Construction Corporation (CRCC) has been awarded a $221.7 million contract by the National infrastructure Development Company (Nidco) to build the controversial Curepe Interchange, the state company's chairman Herbert George has confirmed.

Legal Advisor to the Police, retired Justice of Appeal, Claudette Singh yesterday testified that there was insufficient evidence in the allegation made by Andriff Gillard of an alleged plot to assassinate President David Granger.