Duo in custody over Zealand murder
– brutalized widow recovering
Two persons remain in custody following the gruesome murder of Deoroop Sieuchand, 72, while a post-mortem examination revealed that he died from multiple incised wounds compounded by blunt trauma to head.
A relative told Stabroek News yesterday that the man's body bore "28 stab wounds to be exact." The condition of his wife, Ambika, 70, who sustained severe blows to her head, is improving.
She is still a patient at the Georgetown Public Hospital (GPH).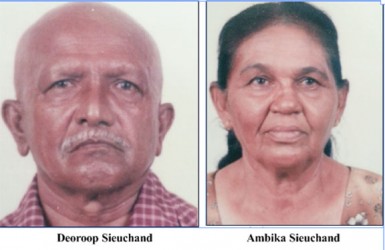 This newspaper was told that charges are likely to be laid against the two men, including a close relative, upon completion of investigations.
The main suspect was taken into custody after police learnt that the incident may have stemmed from a dispute between families over land. The house was ransacked but it is unclear if anything is missing.
Reports are that the couple was watching television sometime between 6 pm and 9 pm on Saturday in their Zealand, Mahaicony home when they heard a sound in the upper flat. Sieuchand went up to investigate and was confronted by three men.
They had gained entry to the building through an open window using a ladder that Sieuchand, a farmer, used when picking coconuts.
A struggle ensued between him and the men and it appeared as though he tried to seek cover in a bedroom. But the assailants cornered and bound him and inflicted the wounds which he bled profusely from. There was a pool of blood on the kitchen floor right below the bedroom where the murder took place.
His wife who heard the commotion was heading upstairs to check, but when she realized what was happening she retreated to the lower flat. She also shouted for a ten-year-old child, who was also in the house, to run and hide. The men reportedly grabbed him and dealt him a few slaps but he managed to escape and concealed himself.
The men followed Ambika and hit her on the head causing her to collapse to the ground in an unconscious state. They then returned to the upper flat and apparently continued their attack on the man.
This newspaper was told that the men went back downstairs and hit Ambika to her head again. She had still not regained consciousness.
Before escaping, they also poured what seemed to be a beverage on her face and after she failed to respond they apparently felt she was dead, relatives said. There was also blood at the spot where she was attacked and lay helplessly
The child who was hiding in the house during the ordeal remained concealed until 6.30 am on Sunday when he mustered the courage to leave for help.
Ambika was taken to the Mahaicony Hospital at about 7:30 am. She was treated and transferred to the GPH.
Sieuchand's body was removed around 10.30 am.