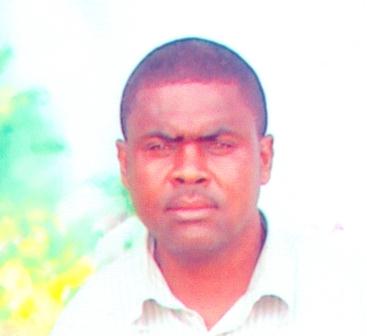 With uncertainty still clouding who shot Detective Corporal Seburn Elias on Monday, ballistic tests on warheads that would be retrieved from his body during an autopsy today are expected to determine whether it was one of his colleagues or the fleeing prisoner he was pursuing at the time.
Elias, who had been a member of the Guyana Police Force for the past 25 years, was part of a large party of policemen who had cornered prisoner Delon Abrams in a yard in Alberttown. Abrams had moments before escaped from the Georgetown Hospital, where he was under guard, and had taken a policeman's gun in the process.
Contacted yesterday, Crime Chief Seelall Persaud said that there are two lines of inquiry that the police investigators are pursuing—that Elias was shot by "friendly fire," meaning rounds discharged by a policeman; or by two rounds which were discharged from the weapon that was stolen by Abrams.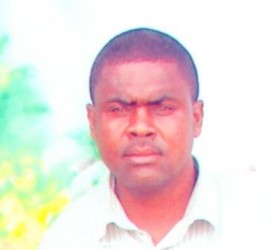 Persaud stated that Elias was shot in the area where the prisoner was cornered and eventually captured. Asked if an internal investigation has been launched into the circumstances surrounding the escape and the seizure of the policeman's gun, he told this newspaper that there will be one investigation and those issues would be included in it.
The Crime Chief had initially told this newspaper, while he was still awaiting the details of what transpired, that he had been informed that the policeman had been hit by "friendly fire." However, police subsequently said in a statement that Elias was "shot and killed" by Abrams.
According to the police, Abrams, 23, of South Ruimveldt, Georgetown, had been arrested by public-spirited persons and handed over to the police following an alleged break and enter and larceny committed on a home at Turkeyen. He had suffered injuries prior to being handed over to the police and was being escorted to the Georgetown Hospital by a constable, who was armed with his .38-calibre service revolver. It was in the hospital compound that Abrams managed to overpower the policeman and take away his firearm before escaping, the police said.
Abrams was pursued by police ranks, who caught up with him in a yard at Fourth Street, Alberttown, around 7pm. During efforts to arrest him, Elias, who was unarmed at the time, was fatally shot to his left side.
Stabroek News was reliably informed that Abrams got his chance to escape by pretending that he wanted to use the washroom in the waiting area of the Accident and Emergency (A&E) Unit. It was when his handcuffs were removed that he engaged in a scuffle with the rank guarding him. He then snatched the rank's service revolver and made a dash for the door with the gun in hand and the police rank hot in pursuit.
Persons at the hospital told this newspaper yesterday that the escaping man ran by the lone female rank at the police outpost and through the gate onto New Market Street before fleeing in the direction of Alberttown.
It would appear that the rank quickly gave up his pursuit and called for backup as no one could recall seeing any policeman in the area after the escape. In the interim, Abrams then ran down an alleyway and scaled a fence surrounding an abandoned house. It was there that he was apparently cornered and captured. The entrance to this property can be accessed from Fourth Street. Abrams entered from the back.
'Plenty police'
When Stabroek News revisited the area where the shooting took place, residents recalled that multiple shots broke the evening's silence. Some said that they counted about six shots while one resident said there were at least four. Many said that after the gunshots rang out, they ducked for cover until it had stopped.
One resident, who asked not to be identified, recalled seeing police vehicles in front of her home. Seconds later, "plenty police" exited and made their way down Fourth Street before turning down an alleyway. She said that there are three houses in the yard and she later learnt that the ranks went to the third house, which was uninhabited after having been recently sold. That was where Abrams was hiding.
The woman said that when she saw the number of police ranks present, she was immediately overcome with fear as she knew something was wrong. "All I hear is 'bam! Bam! Bam! Bam!' and I duck fuh cover and then ah peep but ah couldn't see nothing cause the place dark," she related.
Shortly after, she saw some of the policemen exit the alleyway. They returned a short while later. She said that later the ranks came out with a half-naked man whose hands were secured behind his back with handcuffs. The woman recalled hearing the ranks saying that the man had shot a policeman but she did not see any wounded person being fetched out. It may have been that when the ranks left the first time, they had Elias with them and took him to the hospital. Since there is no other entrance to the property, he had to have been taken on to Fourth Street.
She said that after the shooting, the police blocked off both ends of the road, preventing persons from entering or exiting. Since the ranks left with the suspect, she said, no one had returned to the area.
Another resident, who was on Third  Street at the time, recalled that shortly before 6.30 pm a vanload of policemen and two others on motor cycles drove into the street. He said that the policemen entered an alleyway next to an internet café. Seconds later, he said, he was informed that police were on the hunt for "a bandit" who had run into the alleyway.
After about 10 minutes, the man said that loud gunfire erupted. He said that he counted about five to seven shots. About five minutes later, he said that he saw ranks leaving the area.
 A long time
Meanwhile, Chief Executive Officer (CEO) of the Georgetown Public Hospital Michael Khan yesterday said that he was awaiting a report from the chief public safety officer, which would allow him be in a better position to offer a comment on the claim that it took a long time for the staff at the hospital to tend to Abrams. He was taken there by the constable around 2 pm.
Persons working at the hospital expressed concern at the escape, which comes on the heels of another during which a rank discharged rounds behind a fleeing prisoner. On November 30 last, 19-year-old Edgar Blackman, of Tucville, made his dash for freedom. He is still at-large. He had been badly beaten by residents after committing a robbery in Sophia two days prior. At the time of his escape, he was in the Male Surgical Ward. He had been discharged earlier in the day and preparations were being made to have him transported to the lock-ups.
One staff member said that the issue of determining who should be given priority treatment should be looked at again. "They had he sitting there from two till six…that was too long to have a prisoner sitting there," a staffer opined.
Elias's wife, Alana Elias, told Stabroek News at her Bare Root, East Coast Demerara home that she was unable to make contact with him as his phone kept going to voicemail. She said that when she called again, a policeman answered and told her she needed to come down to the hospital as her husband had been shot. She recalled asking the rank if it was anything serious and he responded in the negative. However, when she arrived at the hospital, the Commander took her aside and broke the devastating news that her husband had died.  She said that when she was taken into the emergency room, his body was already wrapped.  A cloth covering his face was removed so that she could see him, she added.
Alana said that her husband leaves to mourn four children, the eldest being 14 and the youngest eight.
Comments

The Management of Cheddi Jagan International Airport Corporation (CJIAC) is currently undertaking a massive expansion project  and a Temporary Arrivals Terminal Building was recently constructed.

Tourism Minister Shamfa Cudjoe announced the decision to close the company. (Trinidad Express) The Tourism Development Company (TDC) has ceased operations.

Cevons clearing city garbage WPA STATEMENT ON THE UNRESOLVED ISSUE OF GARBAGE COLLECTION IN THE GEORGETOWN MUNICIPALITY The WPA is deeply concerned that the Georgetown City Council's inability to honour its financial obligations to Cevons Waste Management and Puran Brothers has the potential of endangering the health and lives of citizens.
British High Commissioner to Guyana Greg  Quinn  yesterday said that it was hoped that more would have been done to push the constitutional reform process forward.

A West Coast Berbice man died after he reportedly set his one-storey house ablaze sometime around 11.20 am yesterday.