Terry Holder, veteran broadcaster and former Deputy General Manager of the Guyana Telephone and Telegraph Company (GT&T), lost his battle with cancer yesterday.
He was 73.
His son Dwayne Holder told Stabroek News that Holder died at his Lama Avenue, Bel Air Park, home yesterday afternoon.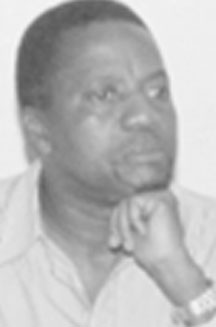 The younger Holder explained that while his father had been ailing, he was still shaken by his passing. He remembered his father as "giving, loving to people and loved people, he loved sports mostly cricket but his heart was broadcasting and public relations."
Broadcaster Enrico Woolford, who worked with Holder when he was General Manager of the then Guyana Broadcasting Corporation (GBC), in a tribute described Holder as an icon in the field. "I am deeply, deeply saddened. He had been ill for a while and we all knew his passing would be inevitable. It is still a blow. He was an excellent manager and always….for him the project was what was most important rather than you just coming and working the nine to five," he said.
"He always stated that the listener was most important and should benefit from the project in a meaningful way and worked catering to that," he added.
He noted the many broadcasters who also worked with Holder and who benefitted from his expertise and singled out his contribution in the formation of the Caribbean Broadcasting Union (CBU).
"I think he made an indelible contribution to the broadcasting fraternity not only in Guyana but the entire Caribbean region …his legacy will live on and will be kept, that is, through giving the listener the quality work that they deserve," he stated.
Well-known broadcaster Ron Robinson echoed much of what Woolford stated and pointed out the respect Holder gained from the public and colleagues. "He was an icon of broadcasting. He was someone who was respected as a broadcasting advisor to many in the Caribbean. He was always constructive in his criticism and unbiased in his comments," Robinson said.
"Many, like I, have benefitted from Terry's tremendous insight as someone who fought to always improve the media …we will certainly miss him as a colleague, friend and broadcasting extraordinaire," he added.
Joe Singh, a childhood friend and former Chief Executive Officer of GT&T, reflected on the man he knew for over 50 years both in formal and informal capacities. "I have known him since we were both at QC (Queen's College) and then we worked together at GT&T when I was CEO and he Deputy General Manager …He was a true professional, very patriotic and always gave of his best," Singh said.
"He played an integral part; always looking at the business sector and customers…Terry was always developing something which helped in the bonding of staff. He overlooked their welfare and planned activities to help their development. All in all, he was a great asset and his talents will be deeply missed," he added.
A cricket fanatic who served as the Public Relations Officer on the Guyana Cricket Board for over 15 years, Holder was remembered by past President of the board Chetram Singh as a dedicated hard worker, who was instrumental in local cricket's development. "We were good friends and go back a far way so I [was] saddened when I heard of his passing. He was a stalwart of sport in the context of the amount of work he put in for the board and seeing cricket evolve to a higher level," he added.
"His intellect also was illustrated in the statements he sent out on behalf of the board as he was responsible for all and he never missed any major events and was always on top in getting news about cricket and the board out," Singh noted.
Past President of the Guyana Manufacturing and Services Association (GMSA) Ramesh Dookhoo recalled Holder's firm positions on issues when he felt that there was bias. "He served well always and I can tell you when he was Vice President of the Association and I President he always had a nationalistic outlook but his strong love for Caricom was reflected too… when Stabroek News was in a crisis of not getting government ads, he led the way for this to change… we had many meetings with government of Guyana and he voiced his concern. That was a sterling contribution," he said.
"All of our GMSA functions he oversaw and he set a high standard for business lunches and dinners that I now see reflected today. I would like to remember him as a person who had Guyana at heart who made major contributions to media," Dookhoo noted.
Comments

A jet plane flies by the total solar eclipse in Guernsey, Wyoming U.S.

Superstar opener Chris Gayle … returns to the West Indies side for the first time in over two years.

The Church Street hotel and casino Hotelier Clifton Bacchus today filed a $2 billion lawsuit against the state-owned Guyana Chronicle newspaper following its publication of two recent articles which he has described as "highly defamatory." Guyana National Newspapers Limited, which is the publisher of the Guyana Chronicle, and the editor of the Guyana Chronicle were listed as the defendants in the suit, which was filed by a team of lawyers headed by former Attorney-General Anil Nandlall.

LONDON, (Reuters) – The gradual decline of West Indian cricket is hardly a new phenomenon but the latest capitulation of a once-dominant test match power has brought genuine expressions of sadness throughout the sport.

Eleven residents of the juvenile correctional centre at Onderneeming on the Essequibo Coast were apprehended between yesterday and this morning.