Radio's Needy Children's Fund (RNCF) yesterday made donations to Jasmine Joseph, the 3-year-old girl who was mauled by a jaguar on December 27 and Reanna Edwin, a 4-year-old girl with brain cancer.
"I feel so happy to receive this money. She needs medication and has no father, just her mother," Jasmine's grandmother Agatha Joseph said after receiving the donation of $50,000.
She added that since she left Isseneru, Region Seven, to care for her granddaughter, she has been staying in South Ruimveldt with family.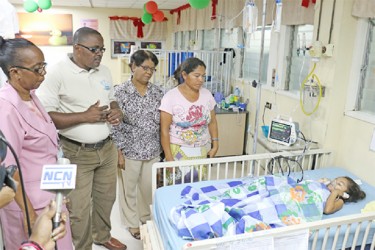 RNCF Treasurer Doris Lewis said that when Michael Gordon, Head of RNCF saw Jasmine's story, he suggested that a contribution be made to her.
Lewis added that the organisation is about giving to those who need. She said she hoped the money donated to Jasmine would help to cover surgery expenses.
Gordon said no one individual should be complimented for what RNCF does, since everyone is responsible for what is being done by the organisation.
"We are known for organising Christmas parties but we have evolved over the years. We give scholarships to at least two children across Guyana, we partake in medical outreaches, monthly care giving…," Gordon said.
He added that RNCF is not looking for publicity but hopes that the donation brings back some sense of normalcy to Jasmine's life. He added that he believes she might not be the same person after her complete recovery because of the traumatic event she went through.
"We would like to thank God that Jasmine is alive. We believe that we should play a part to ensure that those in need are on the receiving end," Gordon said.
He called on other charitable organisations to come forward and help, not only Jasmine but all those in need.
Audrey Corry, Director of Nursing, said that Jasmine arrived at the Georgetown Public Hospital (GPH) in a very critical state. She said the young girl was unconscious and needed immediate attention.
Corry said Jasmine started off in the Intensive Care Unit and she is now able to eat solid food, drink and interact with the persons around her. She said everyone at GPH is grateful she is alive.
Jasmine was brutally attacked by a jaguar, dragged from the steps of her home and taken into nearby bushes after taking a bath in the Mazaruni River with her family. She was subsequently transported via airplane to GPH with her head, torso and legs damaged. It was the second attack on Jasmine by a jaguar. The animal has since been killed.
Minutes after the presentation to Jasmine, Gordon was approached by Cybil Edwin, who informed that her 4-year-old daughter, Reanna Edwin has brain cancer and is battling for her life. She is currently awaiting an MRI. She added that she cannot afford her daughter's surgery.
RNCF immediately sprang into action and arranged for $50,000 for be donated to the young girl.
Edwin said that she is a mother of eight and travelled all the way from Monkey Mountain, Region 8 to Georgetown to seek treatment and care for her daughter. She said that she does not have the finances needed for the expensive surgery her daughter has to go through.
"I am in problems. I cannot pay this alone. I don't have anything financially and I am facing a difficult situation," Edwin said.
She added that because the situation was out of her reach, she decided to approach the RNCF. She expressed gratitude for the financial help she received.
Comments

LONDON, (Reuters) – The gradual decline of West Indian cricket is hardly a new phenomenon but the latest capitulation of a once-dominant test match power has brought genuine expressions of sadness throughout the sport.

Eleven residents of the juvenile correctional centre at Onderneeming on the Essequibo Coast were apprehended between yesterday and this morning.

With growing pressure on the government over the overcrowding of jails, MP Michael Carrington is confident that the parliamentary bill in his name to ease penalties on marijuana use will gain the support of the governing APNU+AFC benches of which he is a member.
The National Toshaos Council (NTC) is to begin its conference today and high on the agenda will likely be ongoing concerns about the lands commission of inquiry (CoI) which the government has convened.
A Trinidad-based medical products company has secured four contracts worth $135.4m. According to the Ministry of the Presidency (MotP), Cabinet at its meeting on August 15,2017 noted the award of 16 multi-million-dollar contracts.