Colwyn Harding received some relief with the donation of colostomy bags even as just over a dozen citizens yesterday afternoon staged a protest opposite the Public Buildings to demand that the police in his alleged rape be brought before the court without delay and face an immediate trial.
The protest, which coincided with yesterday's sitting of the National Assembly, was organized in the wake of Harding's allegations that he was brutally sodomised with a baton by a policeman, who he has also accused of beating him at the Timehri Police Station where he was subsequently imprisoned.
Police have launched an official probe and the policeman accused of the assault has been placed under close arrest, while others have been transferred for its duration.
When Stabroek News visited Harding yesterday at the hospital, he said he was feeling much better and that he had received a donation of 20 colostomy bags.
He had previously complained of having to wear a filled bag and being told by nurses that he was only allowed to change the bags twice per day.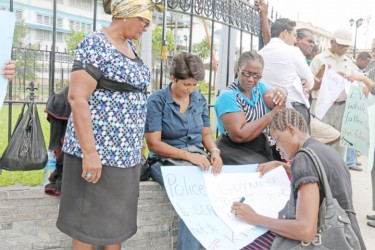 He said that he was very excited to learn to change the bags himself since he was forced to lay in bed with filled bags for hours. He also said that two police officers visited him yesterday and instructed him to sign a form, which they told him was for his release from police custody.
However, he said that was since midday and the police did not return, while he remained in a hospital bed with shackles on his wrists, under the watchful eyes of police guards.
"My son is under attack all around," Sharon Harding said, while noting that the police officers were told by a prison guard that he did not have the keys for the handcuffs and that they should speak to his superiors.
"At first, I was frustrated. Now I'm under pressure because everything is in the open… I'm attacked and my son is being attacked… This whole thing is frustrating. I'm unable to handle it. I'm angry at everything right now," she said, while lamenting that her son said that he did not want to live anymore.
"He don't want to live. He is willing to give up because he don't want to face his friends. This thing is everywhere. He was crying yesterday afternoon [Wednesday]. We left him in tears…but we gotta find a way to cope with him and keep his spirit up," she said, before adding that she was seeking approval from hospital Chief Executive Officer Michael Khan to bring in a private surgeon to monitor his condition. "We want to carry him to Jamaica so that he can get better treatment," she added.
"Right now I'm making sure that I'm the first and last person to visit him at the hospital," Harding's mother said.
Inhumane
"This is inhumane and gross brutality… Putting him under close arrest is a slap in the face to Colwyn Harding," said Joel Simpson, a representative of the Society Against Sexual Orientation Discrimination (SASOD), said during yesterday's protest.
Simpson, one of over a dozen people who turned out to show support for Harding and push for justice, added that sexual assault on civilians was adding to the growing level of distrust that people have for the Guyana Police Force. "I don't think if anything happen to me I would go to the police. I feel that we would suffer more victimization at their hands."
The demonstrators held up cardboards that had bold statements scribbled against police. "Solidarity with Colwyn Harding," "Police are there to protect not maim and kill!" and "Evil reigns while politicians fatten themselves in the blood of youths," were some of the declarations written on the placards.
Demonstrators express-ed outrage at the alleged assault and also noted that it was not the first incident of police brutality in the country. "It is not the first or the second or third incident in recent times…there has been several acts of extra judicial killings, torture, [and] abuse committed by police. This one, however, is particularly disturbing because we are now seeing the use of sexual violence by the police," Simpson argued. "Our position is that (an) immediate impartial investigation should take place and the perpetrators should be brought to justice without any kind of delay."
"The Police Commissioner's statement that an investigation only started this week, although evidence have been there a long time ago, really questions leadership in the force. We don't feel confident that the Office of Professional Responsibi-lity can conduct an impartial investigation of this nature. The Police Complaints Authority has failed over the years to deliver any kind of justice concerning police misconduct," he added.
Another protestor charged that if the attacker were a citizen, the police would have already remanded the person. "This is an abuse of power. To know that it was done by people who were supposed to protect him is really saddening," a representative of Red Thread said. "This could have happened to anybody…it could have happened to someone's son, someone's nephew, someone's brother but if we don't take the stand to stop it then we are getting nowhere, so we have to take the stance now to stop it."
"The poor thing about it is that we are looking at the justice system for help but the conduct already says a lot about the police force. How can senior ranks stand by and watch a junior rank assault him? They should have known that it wasn't the appropriate behaviour. They should have speak out or stopped him. So I hope that all the persons involved should pay the penalty. I'm enraged at their behaviour… the whole act is inhumane."
Collin Constantine, another demonstrator, said that the evidence should speak for itself without any form of interference, while noting that the assault reflected the state of the police force. "It's saddening and embarrassing for the country… we need to hope that his situation goes through a fair trial for those who are being implicated," he said.
'Atrocity after
atrocity'
Other protestors said that the other police ranks involved should not have been transferred to another outpost. "They should lock them up because they watched that boy get beat and then they watched that man push a baton in him! That is a brutal act," they said, while voicing their fears that the policeman would be freed.
"This is injustice… They done do what they had to do…they sodomised him…they destroyed him and so now is time for them to pay for it…I think that the international human rights should be involved…this is an international call for help! We need to stop police brutality. We want the nurses the mothers the teachers and everyone else to come out and fight against this," another woman stated.
The woman stated that too many young men have suffered and died at the hands of policemen. "These police are using their power… it is beastly… They all should be remanded right there at the Camp Street Prison," she added.
Charlene Wilkinson, a lecturer at the University of Guyana, suggested that the policeman accused of the crime is also a victim. "The man that did this is also a victim of a system that does not do anything for the poor because you don't go into the police force if you were rolling with money… This is beyond beastly because even the beasts do not behave like this," she said, while adding that the silence of Guyanese shows that they continue to accept atrocity after atrocity.
Wilkinson said her sister in Jamaica is willing to take Harding and his mother into her home so that he can get better medical attention.
The Georgetown Public Hospital has come under attack for what observers say is  poor medical treatment given to Harding. Harding was taken to the Hospital on December 13, 2013 after he complained of feeling unwell and vomited a green substance, according to his mother.
Sharon, who had seen her son at the hospital on that day, said that he was seen by the doctor and given a date to return to the institution for surgery. She said that when she saw her son he was clearly sick and she felt that he should have been admitted that day. She explained that a few days later he collapsed in the prison and had to be rushed to back to the hospital where he was admitted.
When Stabroek News contacted GPHC's Khan, he said that all questions surrounding Harding's care will be addressed at a press conference scheduled for this morning.
Another protestor, Melinda Janki, said the brutality was totally contrary to the constitution and the pledge that policemen take to protect their people. "We feel very angry because the police are supposed to serve and protect. The police, however, have been brutalising and torturing this young man. It is completely contrary to the constitution and what it is showing is people continually showing disrespect to the rule of law and it's the rule of law that makes us a constitutionalised nation," she said.
"This is an unbelievably cruel and barbaric act and the fact it's the police officer that has the special duty to protect people makes it all the more worse!" she charged, while questioning what the Home Affairs Minister would do to stop "the culture of brutality, illegality and violence that is being seen among police officers".
Comments

Several hundred more sugar workers are expected to be laid off from the Skeldon, Rose Hall, and East Demerara estates by next month and the Guyana Agricultural and General Workers Union (GAWU) yesterday urged that the decision be reviewed.

The commencement order establishing the Telecommunications Agency was signed last Friday, in anticipation of the liberalisation of the telecoms sector, Minister of Public Tele-communications Cathy Hughes announced yesterday.

Nickela Craig-Singh, the woman who was arrested last Friday after the Customs Anti-Narcotic Unit (CANU) found over 10 pounds of cocaine in the ceiling of her Soesdyke home, was yesterday sentenced to four years in prison and fined over $14 million after pleading guilty to possession of the drug.

Almost two weeks after he made a Facebook post in which he questioned whether the Indian High Commission was interfering in Guyana's internal affairs, Director of Public Information Imran Khan yesterday said that he regretted the "furore" his post created and admitted that it should have benefitted from "greater elegance or not have been made." After public reprimand and criticisms coming from even within the government, Khan, who initially staunchly maintained that he voiced his concerns in his private capacity as a citizen, said in a recent post on the issue that he now appreciates how persons may have interpreted his views as being some way reflective of the office he holds.
A young man seen in a recent viral video being brutally murdered in neighbouring Venezuela has been identified as a Port Kaituma miner.