Days after being charged with armed robbery, a teenager was yesterday arraigned for the murder of Pegasus Hotel taxi-driver Rudranauth Jeeboo, whose body was dumped in Cane View Avenue last Decem-ber.
The charge was read to Loranzo Forde, 18, of Lot 4 Drysdale Street, Charles-town by Chief Magistrate Priya Sewnarine-Beharry at the Georgetown Magistrates' Courts.
It was stated that sometime between December 27 and December 28, Forde murdered Jeeboo at South Ruimveldt, Georgetown. He was not required to plead to the capital offence and the Chief Magistrate remanded Forde to prison, and adjourned the case until February 19.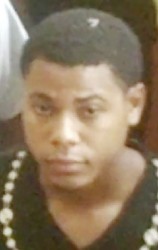 The court was told that Jeeboo's motionless body was discovered at Cane View Avenue on December 28, at 07:50 hrs, in a garbage heap with several injuries. Police Prosecutor Michael Grant said investigations were conducted during which phone records were obtained. These showed that Jeeboo's cellphone was still in use. Those phone records led to Forde's arrest.
Grant added that Forde gave the police a confession statement, in the presence of an aunt. In that statement, Grant said, the teenager admitted to killing Jeeboo, together with other persons, before dumping his body.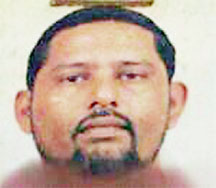 Jeeboo was last seen alive on December 26 in the Pegasus Hotel compound, where he picked up two passengers. The next time he would be seen was dead in a garbage heap in Cane View Avenue, by a passerby. His car was found stripped of the company's logo and its licence plate later the same day.
Last Friday, Forde and a 16-year-old boy were charged with robberies they allegedly committed late on December 26 and December 30, last year.
It was alleged that on Boxing Day, the duo, armed with a broken bottle, stole from a Toyota wagon, valued $2 million, $8,000 and an Ice Mobile cellphone valued $10,000, from Mervin Benjamin.
It is also alleged that on December 30, at Kingston, they stole a 212 Toyota Carina car, valued $1,500,000, from Elijah Adams. The car was the property of Colin Stuart. Additionally, sometime before, during or after the robbery, they allegedly used violence on Adams.
Magistrate Judy Latchman remanded the 16-year-old to a juvenile centre and Forde to prison. The case was then adjourned until February 17, when statements are to be filed.
Comments

The Guyana Power and Light (GPL) says that just after midday today, three armed bandits stormed its Parika Customer Service Centre; robbing the location of all revenues received up until that time, holding the  staff and customers at gun point and disarming a security guard of a gun.

The Management of Cheddi Jagan International Airport Corporation (CJIAC) is currently undertaking a massive expansion project  and a Temporary Arrivals Terminal Building was recently constructed.

Tourism Minister Shamfa Cudjoe announced the decision to close the company. (Trinidad Express) The Tourism Development Company (TDC) has ceased operations.

Cevons clearing city garbage WPA STATEMENT ON THE UNRESOLVED ISSUE OF GARBAGE COLLECTION IN THE GEORGETOWN MUNICIPALITY The WPA is deeply concerned that the Georgetown City Council's inability to honour its financial obligations to Cevons Waste Management and Puran Brothers has the potential of endangering the health and lives of citizens.
British High Commissioner to Guyana Greg  Quinn  yesterday said that it was hoped that more would have been done to push the constitutional reform process forward.