The Guyana Telephone and Telegraph Company (GT&T) yesterday donated $3,500,000 for the Ministry of Education's Children's Costume Parade 2014 which will be held on February 15.
The cheque was presented to the Chief Education Officer of the Ministry of Education Olato Sam at GT&T's head office at Brickdam.
It is the third year in a stretch the company has provided sponsorship to theyearly parade, which sees over 2,000 children on the streets dressed up in costumes as part of the Mashramani celebration.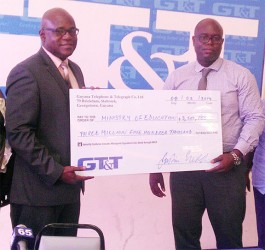 "GT&T prides itself as being a strong corporate citizen by actively participating and supporting activities," said the Chief Financial Officer of GT&T Justin Nedd.
Sam said the Education Ministry was extremely pleased that the company had stepped up to support their parade again. "We are really pleased to receive this generous contribution," he said.
Primary and secondary schools students have been actively preparing for the children's parade, he stated, while asking for support from the private sector and citizens.
Comments

Wijeyadasa Rajapakshe   COLOMBO, (Reuters) – Sri Lankan President Maithripala Sirisena today sacked the justice minister over his criticism of a $1.1 billion deal, signed last month, to lease a port to a Chinese company, the cabinet spokesman said.

NEW YORK,  (Reuters) – Two Harvard University researchers said in a study published today they had collected scientific data proving Exxon Mobil Corp made "explicit factual misrepresentations" in newspaper ads it purchased to convey its views on the oil industry and climate science.

In the wake of rising bad loans and a massive alleged fraud against it this year, the Guyana Bank for Trade and Industry (GBTI) has posted an unaudited net after tax profit of $603m for the first six months of this year compared to $961m in the same period for 2016.

Vamanadev Hiralall, of the privately-run Saraswati Vidya Niketan (SVN), is the country's top performer at this year's Caribbean Advanced Proficiency Examinations (CAPE) after achieving an accumulated 13 grade one and 3 grade two passes.

Twenty-six students in the top one percent of the 12,684 who sat this year's Caribbean Secondary Education Certification (CSEC) examinations earned 12 or more Grade I passes, with half of them, including the top performer, coming from Queen's College (QC).