The manager of a Regent Street pawnbrokery was yesterday afternoon shot and relieved of a bag containing $200,000 and $75,000 in gold jewellery during a robbery.
Puran Ramotar, 30, told Stabroek News that he had just closed his Bourda Pawn Shop, located at Regent and Cummings streets around 4:05 pm, and was preparing to leave for home when an armed but petite teenager approached him and demanded his bag. He said the young robber wore glasses and a long-sleeved shirt, possibly as a disguise.
"I spin round and see this small-looking youth man… can't be more than 16 but face hard bad, with a gun pointing at me. And same time, I seh wuh bag he cocked the gun and shoot me in meh foot and run," Ramotar related.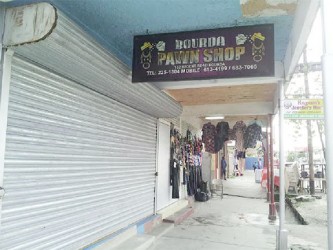 He sustained a single shot in his left calf, but the bullet exited and also marginally penetrated his right leg.
The thief ran west to where a CG motorbike with rider was waiting on him at Cummings Street and they sped off south in the direction of South Road.
Ramotar said a traffic policeman was nearby and he approached but seemed too shocked to act.
Ramotar said he boarded a taxi and headed for the Georgetown Public Hospital.
When Stabroek News spoke to him he had just been treated by medical personnel and was being taken for an x-ray. He said he felt strong and was anticipating collecting the x-ray so he could he go home as he believed that his injuries were minor.
An eyewitness who sells clothes a short distance from the Bourda Pawnshop, said that from his vantage point he saw the young man approaching Ramotar gun-in-hand. He too said he was shocked at the apparent young age of the robber and lamented that it seemed the bandits were "getting younger every day."
The man related: "…When I look up and see this lil lil boy with this gun in he hand… by the time I reach he done fire a shot and like he was going to shoot he again in he belly when I scream out and he run to he partner waiting pun de bike," he said.
"Listen, I telling you this child is about 15/16 [years old] … What happening today man? These boys thieving from early! Young, young boys, I telling you."
Comments

LONDON, (Reuters) – The gradual decline of West Indian cricket is hardly a new phenomenon but the latest capitulation of a once-dominant test match power has brought genuine expressions of sadness throughout the sport.

Eleven residents of the juvenile correctional centre at Onderneeming on the Essequibo Coast were apprehended between yesterday and this morning.

With growing pressure on the government over the overcrowding of jails, MP Michael Carrington is confident that the parliamentary bill in his name to ease penalties on marijuana use will gain the support of the governing APNU+AFC benches of which he is a member.
The National Toshaos Council (NTC) is to begin its conference today and high on the agenda will likely be ongoing concerns about the lands commission of inquiry (CoI) which the government has convened.
A Trinidad-based medical products company has secured four contracts worth $135.4m. According to the Ministry of the Presidency (MotP), Cabinet at its meeting on August 15,2017 noted the award of 16 multi-million-dollar contracts.