By Desilon Daniels
Despite the efforts of 4 fire trucks, a Grove mother of three suffered millions of dollars in losses following an afternoon fire which destroyed her home of 18 years.
Vanessa Higgins's Lot 55 Grove Public Road, East Bank Demerara home, which she shared with her 8-year-old son and 10-year-old daughter, was completely destroyed shortly after she left home around 2 pm to attend a church member's funeral yesterday. According to the woman, she had just arrived at the church when she received a call from a neighbourhood mechanic who informed her that her home was on fire. Initially, she had believed it was a joke because she had not left home long before the call. However, the man's insistence drew her from the funeral back to her home.
On arrival there, she said, she was met with a half-burnt home. Though a fire truck from the Grove fire station was already on site, there was no water available to douse the blaze.
Seeing the fire truck's shortcomings, several persons came together and tried to extinguish the fire, taking water from the trenches and valiantly fighting the fire with it. However, their brave actions were not enough and the fire blazed on.
Helplessly, Higgins watched her home burn until 3 fire tenders from the West Ruimveldt and the Central fire stations arrived to offer assistance.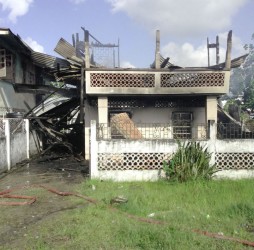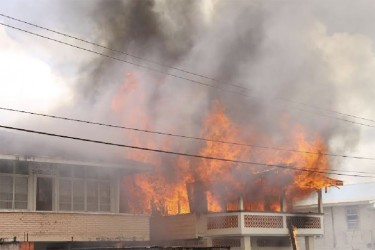 Higgins was at a loss as to what may have caused the fire; she said that no one was at home at the time and she had not left many appliances plugged in. Though the cause of the fire is unknown, residents of the area speculated that it may have been caused by a malfunctioning GPL transformer which was seen sparking furiously, moments before the fire started.
When Stabroek News arrived on the scene, throngs of persons stood around the damaged buildings while two fire tenders were nearby.
Fire officers were observed trying to extinguish small fires that were still burning and ensuring that the fire was fully doused. Minutes before this publication's arrival, two fire trucks were seen heading back to their respective fire stations.
Several bystanders lamented that, though the first vehicle had arrived quickly, there was no water in the Diamond fire station truck.
"The main resource they ain't got. What sense they come fuh? They seh 'water is life, save it' but they ain't save nothing to come with," Ryan Sukhu said. The man, a resident of Grove, continued that after the firefighters arrived, they took a long time to get themselves together.
A friend of Higgins shared her disgust as well, opining that if there was water the home could've been saved.
Higgins' neighbour Kavita Lall revealed that she was at home alone at the time of the fire. "I was lying down taking a rest when I heard a big noise. When I came out I saw a set of boys running for water yelling 'Fire! Fire!' I was so confused I ran out of my house yelling for help." the woman said.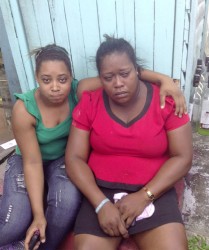 Though her home was not burnt, it received extensive water damage. A number of her windows were also broken in an effort to let out the smoke and the heat. Lall, grateful that many of her house's items had been protected, said she was blessed to have her home saved from the fire.
The woman shares her home with her husband and two children.
Thirty-nine-year-old Higgins was not as fortunate; all of the items in her home were damaged, including two vehicles that were parked in her yard. One of the vehicles, a Canter, was purchased 3 weeks ago and was partially damaged. The other, a CRV, was completely damaged.
Unsure of where she will be staying, a distraught Higgins said that her mother lives in Linden. Her sister, who received a call about the fire and arrived to find the house razed, lives in Kuru Kururu.
Higgins, a daycare teacher during the day and a vendor on the seawall during the night, said her home was uninsured.
Comments

Michael Bhopaul, 16, doesn't know if he is this year's best performer at    the Caribbean Secondary Examination Certificate (CSEC) Examinations, but with preliminary results showing that he has obtained passes in 25 subjects, he will be hard to top.

Inmates at the Lusignan Prison turned over 33 improvised weapons yesterday morning to prison authorities, who say that they also apologised to the prison staff for the unrest at the facility on Friday night.

Well known Berbice attorney Chandra Sohan was arrested on Friday after he allegedly struck a pedestrian in a hit and run accident along the Williamsburg Public Road.

For a little more than an hour yesterday, the streets outside the Mackenzie Market rang with the voices of dozens of Linden residents who turned out to support a march against homosexuality.
The woman killed during the violent storm in Jawalla, Region Seven on Friday, has been identified as a mother of two, who was seven months pregnant.