New Amsterdam was abuzz with news on Tuesday when Topaz, a unique restaurant in the heart of the town was officially opened for business.
Owned and operated by Canadians Ryan and Surya Rambarran, Topaz is located on the western half of the ground floor of Dave's Building, an incomplete edifice at 12 Chapel Street, New Amsterdam. The building which was designed by Dwayne Ferdinand and constructed by Home Designs and Engineering Associates is owned by the Rambarrans. Construction started on June 1st 2011, but due to financial constraints, the building is still to be completed. Nevertheless, the ground floor houses Topaz and three other units which are available for rent. While the first floor consists of four self-contained apartments; the second floor has a conference/reception hall which when completed will also be available for rent; and the top floor is a roof garden.
The Rambarrans are a household name in Berbice, owning and operating a portrait studio and television station for decades. Founder of Dave's Portrait Studio David Rambarran was considered a pioneer in still photography in the ancient county, and since his passing his children have maintained his legacy of service to the public. Thus, the family's new business venture was well received.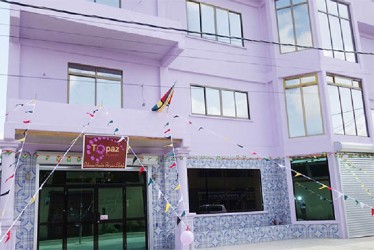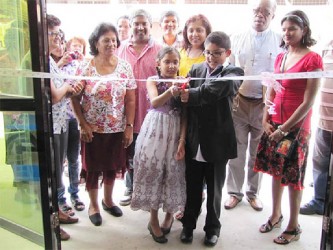 Speaking at the opening ceremony of Topaz, Paulette Henry, wife of New Amsterdam Mayor Claude Henry (who was unavoidably absent), commended the Rambarrans for embarking on yet another business venture which will create employment opportunities for the populace and bodes well for the development of the town. "It is really good to see them [Rambarrans] branching off to another area of business. This is a family that gives to the community and I would like to encourage us all to support them" Henry said, adding that "It's beautiful to see New Amsterdam grow in different ways and this is another area of growth for us".
Also in attendance at the opening was PPP/C MP Faizal Jaffarally, who said "the new restaurant is another indication of the Rambarrans' commitment to Guyana. A restaurant of this nature is certainly an asset…in New Amsterdam there is a shortage of places people can go as a family to dine and be provided with quality food. Knowing the Rambarran family and their background, I'm certain persons can expect quality service".
While there are several eateries in New Amsterdam, what is unique about Topaz is that it boasts of having two kitchens to cater for the needs of both vegetarians and meat lovers without the risk of cross-contamination during the preparation of the meals. Co-proprietor of Wattsan's Catering and Restaurant (one of the main eateries in New Amsterdam) Anna Seepaul in congratulating the Rambarrans said she was very impressed with the double kitchens. "Everyone will know that I'm at Wattsan's Catering, but there is no competition; it's just that when another restaurant comes on board, you who would have already been in business would improve from what you would have seen. I like the idea of the vegetarian dishes being prepared separately. That's very impressive".
Topaz is the brainchild of Ryan Rambarran, one of the directors of Dave's Television Channel 8 Incorporated, who always dreamed of opening a restaurant. And despite migrating to Canada and becoming a citizen, there was never a doubt he would return to the country of his birth to fulfill his lifelong dream. He and his wife Surya are the two main chefs at the restaurant. They are offering unique daily menus reflective of the North American experience, blended with Creole cuisine to suit the Guyanese taste.
Topaz is open on Mondays to Saturdays between 11:00hrs and 17:00hrs. However, according to the owners, while they are currently only providing lunch to the public, eventually they will cater for the breakfast and evening diners as well.
Anglican Archdeacon Randolph Reynolds did the blessing for the business, while the ribbon was symbolically cut by the off-springs of Ryan and Surya Rambarran, David and Rachael.
Comments
British High Commissioner to Guyana Greg  Quinn  yesterday said that it was hoped that more would have been done to push the constitutional reform process forward.

A West Coast Berbice man died after he reportedly set his one-storey house ablaze sometime around 11.20 am yesterday.

A Yarrowkabra miner was yesterday charged with the murder of a co-worker, whom he allegedly beat to death during an alcohol-fuelled clash last Saturday at a dredge site in the Potaro Backdam.
A court action was yesterday filed challenging a directive issued in the name of President David Granger to the Police Service Commission (PSC) for a hold to be placed on planned promotions this year.
UK security expert Lt Col (rtd) Russell Combe, who is working closely with the Guyana government to resuscitate the Security Sector Reform Action Plan (SSRAP), will be broadening his mandate to assess the country's prison situation.