The meeting between technical teams from George-town and Caracas to discuss delimitation of the maritime boundaries of Guyana and Venezuela has not been held due to the ongoing protests in the neighbouring country.
"Due to the current situation in Venezuela, the meeting will have to be held at a later date. We have already indicated this to the Venezuelans, that is, we are ready at any time so we will await their setting of a new date," Director General of the Ministry of Foreign Affairs Ambassa-dor Elisabeth Harper told Stabroek News. "It hasn't been called off at all," she added.
The meeting was scheduled following the October 10, 2013 seizure by Venezuelan naval forces of the MV Teknik Perdana, a seismic exploration ship indirectly contracted to US oil company Anadarko Petroleum Corporation Inc to explore the company's Roraima Block offshore Guyana with a view to determining whether commercial quantities of hydrocarbon existed there.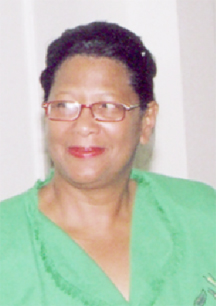 Guyana has been adamant that the ship was intercepted in this country's 200-mile Exclusive Economic Zone (EEZ). The 36-man multinational crew on the Malaysian-owned (Sapura-Kencana Petroleum) and the Panamanian registered oil survey vessel included scientists from the Texas-based researcher TDI-Brooks International.
The ship was intercepted by a Venezuelan naval vessel, the Yakuana, then ordered and escorted to the island of Margarita. Both Guyana and Venezuela have maintained that the incident occurred in their territorial waters and had demanded explanations from one another. Guyana demanded Venezuela's explanation on why it seized a ship in Guyana's waters, while Venezuela demanded an explanation from Guyana on why it gave permission for a ship to operate in its (Venezuela's) waters.
Following the incident, a hastily arranged meeting between the foreign ministers of Guyana and Venezuela on October 17 resulted in a decision to have the countries' technical experts meet in four months to discuss maritime delimitation. They also reiterated that dialogue and cooperation are the means for a peaceful solution of differences between States.
Caracas subsequently charged the captain of the vessel with allegedly violating Venezuela's exclusive economic zone and the vessel and the rest of the crew were later released. The exploration plans of Andarko have also been put on hold.
Last month marked four months since the meeting to discuss maritime delimitation was scheduled but with protests erupting in cities across Venezuela protests, President Nicolas Maduro faces the biggest challenge to his rule from the explosion of anti-government demonstrations that have led to 18 deaths since February. Demon-strators in various cities have blocked roads and burnt tires in some cases, to denounce the repression of protests and make a litany of complaints against Maduro ranging from rampant crime to shortages of basic products.
Comments

Nicolas Maduro CARACAS/LIMA, (Reuters) – A group of 12 regional nations plus the United States rejected Venezuela's new government-allied legislative superbody, saying they would continue to regard the opposition-controlled congress as the country's only legitimate law maker.

Eighteen prisoners at the Lusignan penitentiary were being treated for injuries last night following a reported attempt to kill a fellow inmate during which warders fired shots.

A 12-year-old girl is now dead, while her brother narrowly escaped a similar fate yesterday after their aunt's La Bonne Intention (LBI), East Coast Demerara house, which they were under, collapsed on them.

Guyana has officially applied for membership in the European Union's Extractive Industries Transparency Initiative (EITI) which will help in tracking revenues from oil and other natural resources.

State Minister Joseph Harmon yesterday reiterated that President David Granger's directive to the Police Service Commission to halt its consideration of promotions was intended to prevent damage to the image of the Guyana Police Force but he could not say under what authority the head of state acted.