The man accused of causing the death of hotel worker Lovina Williams by dangerous driving, pleaded not guilty at the Sparendaam Magistrate's Court yesterday.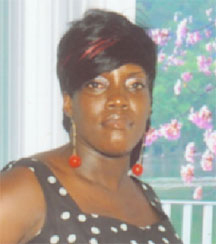 Hafraz Mangroo, denied that he caused the death of Williams, on February 6, on the Liliendaal Public Road, East Coast Demerara, by driving in a dangerous manner.
Mangroo was able to plead after the Administration of Justice Act was applied. Otherwise the matter would have been handled indictably and a preliminary inquiry held.
Police Prosecutrix Anthony, told the court that statements were outstanding, and asked Magistrate Alex Moore for an adjournment.
Relatives had told Stabroek News that Williams, 37, of Melanie Damishana, East Coast Demerara, who had worked at the City Holiday Inn, had been waiting on transportation on the Public Road, when she was struck down. The driver of a car proceeding east along the Rupert Craig Highway allegedly lost control of his vehicle which slammed into the woman before plunging into a nearby drain.
The woman appeared to have died on the spot. The case will be called again on April 29 for statements.
Comments

Alliance for Change (AFC) leader Raphael Trotman yesterday said the diversion of billions to the security sector after the destruction of the Camp Street prison was partly responsible for the government not budgeting the full sum for severance payments to laid off sugar workers.

The police were up to yesterday afternoon still working to ascertain the motive behind the murders of Ambrose Baharally and Martin Godette, the Pomeroon farmers who were shot dead on Sunday and a potential witness was taken into custody to assist with the investigation.

Former President Donald Ramotar has accused the current government of accepting loans from India that he initiated except those pertaining to the rehabilitation of the sugar industry but State Minister Joseph Harmon says he is unaware of the claim and has urged that the former head of state prove it.

Omadat Persaud, who was on trial for raping a five-year-old girl in 2015, was yesterday afternoon sentenced to 45 years in jail after a jury unanimously convicted him of the crime.

The mother of Marlon Fredericks, the mentally-challenged vendor who was fatally shot by a member of the city constabulary on Sunday, yesterday called for justice for her son, while saying that an autopsy found that he died of a gunshot wound to his chest.