A 75-year-old woman was found dead in her North Ruimveldt home yesterday morning and she is believed to have been strangled during an early morning robbery.
The body of Joyce Lewis, of Lot 3630 Christiani Street was discovered by the police and her sister, Veronica Deen around 8:30 am.
Sources close to the investigation said that Lewis was found sprawled on a bed with her underwear

pulled to her ankles. There were also dark marks around her neck.  Lewis had moved back to Guyana from New York in December last year.
The intruder is believed to have gained entrance through a window at the back of the two-storey house.
The window was broken and the grill barring entry into the house was clipped. Residents said the area has been plagued by robberies recently.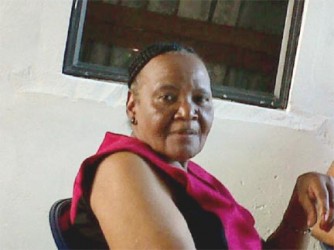 A large crowd gathered in the street yesterday waiting for her body to be carried away by the Lyken's Funeral Home undertakers.
Shane Willis, Lewis' cousin said he received a call from another cousin, telling him to check on her house because she was not answering her phone. "When I reached I see her sister (Deen) and she went hollering," he said, recalling Deen telling him to jump the fence because she said "them kill her".
Willis stated that when he jumped the fence he saw a knife wrapped up in a cloth and a bunch of keys on the ground.
"And she keep hollering that them kill her, them kill her," he said, adding that he jumped onto his bicycle and went home and collected his mother.
"When I reach back the police was there and they were going into the house. I think it had to be more than one person.
One had to jump through the window to let the other one in and throw down the keys," he said. "She was a good woman …she never had problems with anyone", he lamented.
Lewis' best friend, who declined to be named, said she had her last conversation with the woman around midnight. "We chat till twelve and she said she going into her bed and I went into mine around one. We were going to go shopping this morning," the woman said, crying.

She added that she called Lewis' house around 6:15 am and the phone rang out. "I keep calling because I know it's not Joyce to not answer her phone…and I phone, phone but there was no
"I can't live here no more. I have to go back to England…I can't live here and she is dead…" she said, holding onto the arms of a relative.
"She was my best friend and I'm like her big sister…we go everywhere together", the woman said.
Deen was too traumatized to speak to reporters and was crying all the time. 'How yall gon do this to her…ow she is an old woman. Look what they do to her," she wailed.
Residents in the area were appalled that she might have been raped before being killed. 'That old woman they gon rape…what happen to these young men…they sad," one man said.
Another resident said that years ago residents could have slept with their door open but now they are scared of bandits.
Comments

Finance Minister Winston Jordan today moved in Parliament to amend the government's request for supplementary provisions which will allow some of the sugar workers made redundant to get their full severance at the end of January.

The Working People's Alliance (WPA) today announced its support for the government's restructuring of the sugar industry.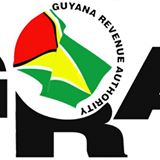 The Guyana Revenue Authority (GRA) today warned about the impersonation of licenced customs brokers.

(Reuters) – England's top order fired in unison to give them a four-wicket win in the second one-day international against Australia on Friday as Aaron Finch's second straight hundred for the hosts could not prevent them falling 2-0 behind in the series.

Four weeks after passing a $267 billion budget for 2018, the National Assembly will debate a supplemental provision of $1.75 billion to meet a portion of the severance pay for around 4,000 sugar workers.