Former CANU Officer Lloyd Mark Conway of Lamaha Springs was on Thursday admitted to the Guyana Bar. Conway's petition was presented by Senior Counsel Robin Stoby to Chief Justice Ian Chang.
Conway, a former Queen's College student attended the University of Guyana where he obtained a degree in Public Management in 2007 before embarking on his legal studies.
He secured his Bachelor of Laws (LLB) degree in 2011 and thereafter successfully completed his two years of study at the Hugh Wooding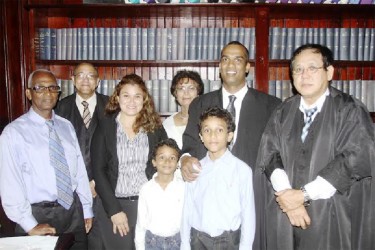 Law School in Trinidad to earn his Legal Education Certificate (LEC).
Besides academics, while at Queen's College he also excelled at cycling, winning national Juvenile and Junior Cycling Championship titles.
He plans to work in the DPP's Chambers where he had done an attachment while still attending law school. Conway has said that he is prepared to work towards being an exceptional lawyer in service to his country.
The new attorney acknowledged the sacrifices made on his behalf by his parents Lloyd and Sylvia as well as the invaluable support of his wife Dinte and his two sons Ethan and Kaden. He also thanked his two sisters and a number of friends for their support.
Comments
British High Commissioner to Guyana Greg  Quinn  yesterday said that it was hoped that more would have been done to push the constitutional reform process forward.

A West Coast Berbice man died after he reportedly set his one-storey house ablaze sometime around 11.20 am yesterday.

A Yarrowkabra miner was yesterday charged with the murder of a co-worker, whom he allegedly beat to death during an alcohol-fuelled clash last Saturday at a dredge site in the Potaro Backdam.
A court action was yesterday filed challenging a directive issued in the name of President David Granger to the Police Service Commission (PSC) for a hold to be placed on planned promotions this year, Attorney Rajendra Jaigobin, who operates from the Chambers of former Attorney General Anil Nandlall, is seeking the following declarations by the court: "a declaration that the Police Service Commission, a Commission established by the Constitution of the Cooperative Republic of Guyana, in the exercise of its functions shall not be subject to the direction or control of any other person or authority;
UK security expert Lt Col (rtd) Russell Combe, who is working closely with the Guyana government to resuscitate the Security Sector Reform Action Plan (SSRAP), will be broadening his mandate to assess the country's prison situation.