Education Minister Priya Manickchand was yesterday afternoon banned from speaking during the 2014 budget debate by Speaker of the House, Raphael Trotman for refusing to apologize to APNU MP Jaipaul Sharma over remarks she made.
Manickchand's offending remarks came while she was heckling APNU MP Volda Lawrence. Lawrence was at the time stating that more needed to be done to assist young women who were victims of sexual assault including statutory rape. Manickchand then heckled that APNU had to ask in house about certain allegations.
Trotman stepped in and said he would not tolerate such language and heckling in the House and banned Manickchand.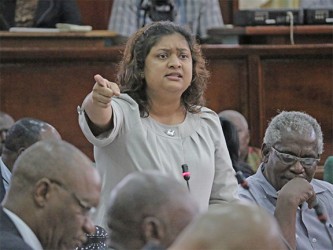 "I will not recognize you to speak in this assembly…on any day of this debate if that is the attitude you are going to take", Trotman told Manickchand on the last of the numerous attempts she made to interrupt him.
The speaker said that he heard exactly what Manickchand had stated and that it was out of order. He called the comments "dastardly" and that no member of parliament needed to venture into that territory. When asked to apologize, Manickchand stood her ground saying that she was in a "tight position".  She said it was not Jaipaul Sharma she was referring to but his father CN Sharma. Trotman however was not amused or moved.
Speaking with Stabroek News afterwards, Jaipaul Sharma, stated that Manickchand's attempt at heckling was very formulaic and lacked creativity. He recalled that she made the same types of remarks during the 2013 budget estimates.
He said that he requested a copy of the Constitution be brought to him so he could review what could be done. He told this publication that his interpretation of the Constitution could make for a possible libel case against Manickchand.
Sharma said that since Manickchand was not on the floor when she made the remarks she was not protected by the Constitution.
He said that he would be reviewing the footage before taking any action. However, Sharma did state that Manickchand owed him a public apology as well as his father.
He said that Manickchand as the education minister was setting the wrong example.
He agreed with Trotman's ruling, stating that her stubborn stance determined her own fate in being disallowed from speaking during the debates.  Television broadcaster CN Sharma will face trial in the High Court in relation to  carnal knowledge of a  13-year-old girl. He was charged in April of 2010.
At the start of the debate the Speaker had issued guidelines of conduct and had warned that those MPs falling afoul risked being banned. These guidelines included that "members will conduct themselves with the highest traditions expected of a Member of this august House."
There shall be no disrespectful, derisive or derogatory comments made by any Member against any other, and including his/her family members."
Comments

The NOC compound (SN file photo) Eleven residents of the juvenile correctional centre at Onderneeming on the Essequibo Coast were apprehended between yesterday and this morning.

With growing pressure on the government over the overcrowding of jails, MP Michael Carrington is confident that the parliamentary bill in his name to ease penalties on marijuana use will gain the support of the governing APNU+AFC benches of which he is a member.
The National Toshaos Council (NTC) is to begin its conference today and high on the agenda will likely be ongoing concerns about the lands commission of inquiry (CoI) which the government has convened.
A Trinidad-based medical products company has secured four contracts worth $135.4m. According to the Ministry of the Presidency (MotP), Cabinet at its meeting on August 15,2017 noted the award of 16 multi-million-dollar contracts.

The police on Friday evening discovered an AK-47 assault rifle and a quantity of ammunition in a haversack at Kingston, Georgetown.