A fuel trawler exploded yesterday morning at Turn Basin, Port Kaituma, setting off a fire that destroyed boats and buildings, left millions of dollars in damages, and questions about the regulations in place for the pumping of fuel.
A 17-year-old boy, who was pumping fuel from the trawler at the time of the explosion, has been hospitalised with serious burns, while a second person escaped with minor injuries which did not require medical attention.
A resident told Stabroek News that the explosion occurred at around 7:30am aboard the trawler that was moored at the wharf. It was quickly engulfed in flames and the fire spread to at least three smaller fuel boats, which were moored alongside it. According to the resident, the fire then spread to several nearby buildings located on the waterfront.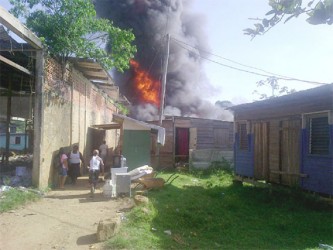 As bright orange flames and thick black smoke bellowed from the boats, residents rushed to the scene and many formed bucket brigades and used small water pumps to get access to water to douse the fire.
"This here is a real disaster. It is terrible for myself and for people who lost buildings and who lost their boat," said Samuel Benjamin, who said he now has to start over from scratch after losing a building in the fire. In addition to the trawler, four boats and five buildings were burnt in the fire.
Stabroek News has since learnt that a team from the Guyana Fire Service (GFS) visited the scene and later left after conducting investigations.
Resident Vibert Peters said via telephone that the fuel trawler is owned by a Georgetown-based businessman and that it was the operation of a defective pump that caused the explosion. He explained that the fuel trawler would transport fuel from Venezuela and would stockpile it at Port Kaituma.
According to Peters, the 17-year-old boy from Hosororo, also located in Region One, had been working the pump all week. After it kept "backfiring," he was advised to cease using it. However, he did not heed the warnings, Peters said, before adding that while operating the pump yesterday it exploded and the gasoline ignited.
Peters said that the teenage boy was badly burnt and is currently receiving medical attention as the Port Kaituma Hospital. "Is he cause the fire… He ain't know nothing about pump," the man declared.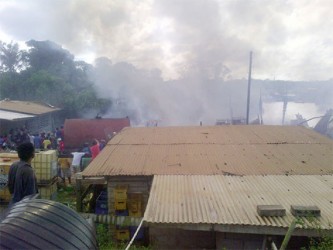 He went on to state that his boat along with 275 coconuts and a one month old motor engine which were on board were all destroyed. He recalled that he was pushing a wheel barrow with coconuts trying to make a sale when he noticed the thick black smoke from the area where his boat was moored and he immediately headed in that direction. He said that when he arrived at scene of the fire, thick black smoke met him. He said that in his attempt to save his vessel from complete destruction, he was burnt and had to jump overboard to save his life.
According to Peters about four boats were destroyed and up to when he was speaking to this newspaper the trawler was still on fire. He noted that the other boats that were destroyed were loading fuel and as a result they burnt quickly because of the presence of the substance.
"Them people deh try but they couldn't help me," he said, while noting that his only means of income went up in flames.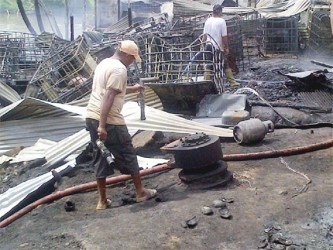 "Plenty, plenty people come out. This whole Port Kaituma coulda bun down. Is thousands of gallons of fuel ketch fire," he said, adding that all some residents could have done was run for their lives.
Despite his injuries, Peters did not seek medical attention and instead he only lathered the wound with Colgate toothpaste. He said that he has since visited the police station, where a statement was taken from him.
 'Disaster waiting to happen'
Benjamin told Stabroek News that a building which he used to store coconut, eddoes, fish and other items for sale was completely gutted while another was partially damaged.
He said that he lived "up the hill" and while there he was informed that his place was on fire. He recalled that this was around 8:30 am. "All I meet is the ash. The fire spread fast and with the fuel it burn fast," Benjamin said.
He estimated his losses to be in the area of $1.5 M. He was unable to say how the fire started.
According to him, one of the other destroyed buildings housed a family and a business. He said that a woman and her child were able to flee to safety unharmed. The other destroyed buildings, he said, were fuel bonds, which "made things even worse. It was plenty, plenty fuel."
He noted that the destroyed boats "already sink," while the fuel trawler, which was still on fire, was disconnected from the wharf and pushed into a corner to allow the fuel to "burn out."
Benjamin stressed that carelessness is to be blamed for the fire. He explained that there needs to be "rules and regulations" in place for when fuel is being discharged. He told this newspaper of instances where there was continuous pumping of fuel sometimes in very close proximity to buildings. "Everybody doing them own thing and they don't want advice. They just come and deh pumping fuel all in the night," he said.
He noted too that repeated complaints to the police have been ignored, since ranks say nothing can be done because residents are squatting.
Another resident and former parliamentary representative Richard Allen told Stabroek News that yesterday's fire was "a disaster waiting to happen." He explained had repeatedly raised concerns about the fuel operation but nothing was done.
Allen said that after a fuel boat exploded in January, he spoke to persons, including fuel boat owners, about how the fuel was being discharged and how the fuel was polluting the water. "People didn't take precaution," he pointed out, while also noting that most of the fuel boats don't have a fire engine. He said that the person who are pumping the fuel do not wear protective gear either.
He recalled that he had raised their matter with the Interim Management Committee, which had among its members an environmental officer who could address the pollution of the water since residents living on the river bank depend on it.
Meanwhile, Benjamin also noted that there is need for a fire station for the area. If a fire starts, the community has no proper means to deal with it, he said, while observing that although the community is located next to water, no one "really got a proper pump to get water from the river."
The issue of a fire station was raised before following a fire in Port Kaituma which claimed the life of a woman and her four children last month.
GFS volunteer Godwyn Fordyce had told this newspaper that they were given training to prepare them to respond if there were a fire in the village.
He said that they were also given equipment but because of the area's terrain it was of no use on the night the woman and her children died. "We have an engine on a tractor but [it] cannot really be used inland. It has three suctions and only about 18 feet leverage," he explained.
Further, he said that the main source of water is the Port Kaituma River and that while that was a very long distance away, setting up mining pumps and hoses required time, which is of the essence during a fire.
Fire chief Marlon Gentle, in offering comments after that fire, had said the GFS will determine what can be done to boost the firefighting capacity of the Port Kaituma firefighters. "We will have to see what is needed because one might say give a fire engine but because of the terrain that might not be the most practical thing," he noted. "Further assessment will tell us more but what we know is that this area is growing. It is booming because of mining and we have to look at a lot of things' regularization, how they construct and so forth," he added.
Peters estimated his losses in the vicinity of $1.8M, while Benjamin's estimated his losses at about $1.5M. Both men told this newspaper that they would like to be compensated for their losses.
Comments
British High Commissioner to Guyana Greg  Quinn  yesterday said that it was hoped that more would have been done to push the constitutional reform process forward.

A West Coast Berbice man died after he reportedly set his one-storey house ablaze sometime around 11.20 am yesterday.

A Yarrowkabra miner was yesterday charged with the murder of a co-worker, whom he allegedly beat to death during an alcohol-fuelled clash last Saturday at a dredge site in the Potaro Backdam.
A court action was yesterday filed challenging a directive issued in the name of President David Granger to the Police Service Commission (PSC) for a hold to be placed on planned promotions this year, Attorney Rajendra Jaigobin, who operates from the Chambers of former Attorney General Anil Nandlall, is seeking the following declarations by the court: "a declaration that the Police Service Commission, a Commission established by the Constitution of the Cooperative Republic of Guyana, in the exercise of its functions shall not be subject to the direction or control of any other person or authority;
UK security expert Lt Col (rtd) Russell Combe, who is working closely with the Guyana government to resuscitate the Security Sector Reform Action Plan (SSRAP), will be broadening his mandate to assess the country's prison situation.