A New Amsterdam businessman, Charles Henry aka Charlie Bristol, is currently in police custody in connection with the shooting to death of 52-year-old Errol Lindo called 'Sono' and 'Son-son' of Caracas Village, West Canje. Lindo was shot thrice about the body at his residence on Wednesday, allegedly by Henry. Originally from Yakusari, Black Bush Polder on the Corentyne, Lindo migrated to New Amsterdam almost two decades ago and took up residence, joining others in squatting on the vast unused lands in the Angoy's Avenue area. Some four years ago, Henry, a re-migrant who invested in a few businesses in New Amsterdam, claimed ownership of the lands and sought to have the squatters removed.
A legal battle ensued. The businessman and several of the squatters (including the now deceased Lindo) are currently before the courts to determine who has legal rights to the land. While a conclusive decision is yet to be made by the courts, efforts had been made to have the squatters forcibly removed.
According to residents, Henry along with four men arrived at Lindo's residence sometime around noon on Wednesday and started to dismantle the two-bedroom wooden house. Lindo, a farmer and tractor operator, was not at home at the time. Attempts by Lindo's sister—who was summoned to the scene by residents after calls to Lindo's cell phone when unanswered—to stop the men were futile. Upon arriving home around 17:00 hrs and seeing the destruction of his house, Lindo ran into the yard and was allegedly shot thrice.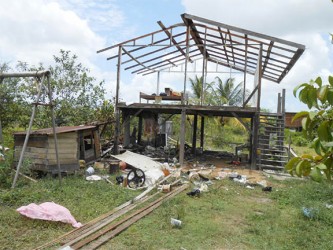 Fifty-two-year-old Rookmin Dindyal, who lives obliquely opposite Lindo and witnessed the incident told Stabroek News: "The man [Lindo] sister come in and try to stop them from breaking the house, but them still determined to break the house. Then Son-son run in from the dam, and I just hear bang! Bang! Bang!"
Dindyal recalled that when the villagers and onlookers realised Lindo had been shot, they tried to apprehend Henry, who sought refuge in a nearby house. Unable to get their hands on Henry the angry mob torched his car.
The residents all bemoaned what they referred to as the "injustice of this country. How you could come in a man yard, break down he house and then shoot he and kill he?" they questioned.
Signalling their displeasure with what happened and calling on the relevant authorities to intervene and ensure the family of the deceased receives justice, the enraged villagers picketed in front of the 'B' Division Central Police Station, yesterday. According to the protestors, something needs to be done to resolve the land dispute amicably before it results in more bloodshed.
"We need justice. We living on this land for more than 20 years and we would like to know we got some legal right to this land," they said. According to the residents, the businessman has been demanding payment for the lots they occupy to the tune of $300,000 to $500,000, but has not provided them with proof of ownership.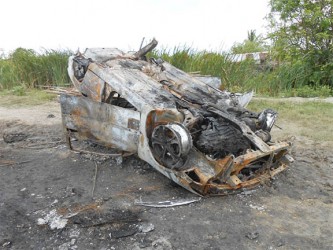 "We need the government to do something. We can't pay somebody money for it and don't have any papers showing proof of ownership. Let Mr Bristol present his papers, so we can know what grounds we fighting on," they argued.
Over 100 families are squatting on the acres of land the businessman claims to own.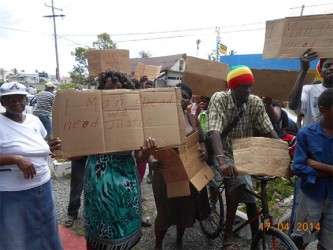 Lindo's sister who witnessed the shooting of her brother was too traumatized to speak to Stabroek News. Lindo leaves to mourn six children.
Police are currently investigating the incident.
Comments

A sketch of the proposed Curepe Interchange (Trinidad Guardian) China Railway Construction Corporation (CRCC) has been awarded a $221.7 million contract by the National infrastructure Development Company (Nidco) to build the controversial Curepe Interchange, the state company's chairman Herbert George has confirmed.

Legal Advisor to the Police, retired Justice of Appeal, Claudette Singh yesterday testified that there was insufficient evidence in the allegation made by Andriff Gillard of an alleged plot to assassinate President David Granger.

Today at 2 pm the 30 councillors of the Georgetown City Council will once again cast a vote on the future of metered parking in the city and several of them have told Stabroek News that they want to be sure their vote accurately represents a mandate from residents.

Crime Chief Wendell Blanhum yesterday made a written request to be recalled before the Commission of Inquiry (CoI) investigating the allegation of a plot to kill the President of Guyana to defend himself against "appalling" statements made by Assistant Commissioner of Police David Ramnarine.

Two men were yesterday remanded to prison by a city magistrate after they were charged with the fatal stabbing of Rawle Rodrigues which occurred in January.