– GuySuCo official
GuySuCo Company Secretary Frederick Singh says breaches of the restrictions over the use of land at Leonora, which was sold to South American Woods Incorporated, will have to be investigated.
Singh told Stabroek News during a telephone interview that further questions could be sent to the National Industrial and Commercial Investments Ltd (NICIL), which acted as the agent for the sale of the land in 2011.
Proprietor of South American Woods Inc, Guyanese-born real estate fraudster Edul Ahmad, purchased the 17 acres of land at Block 'R' Lenora (formerly Plantation Groenveldt) in February 2011 for $80 million. The sale of the GuySuCo land had provisions in place that investors were bound by certain commitments to ensure industry growth and job creation.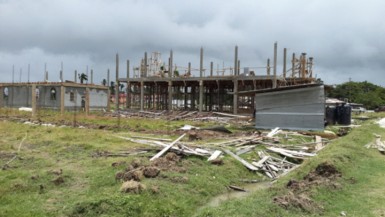 The land was originally intended to be a wood processing factory but instead construction is underway for a development project called "Leonora Projects," which includes plans for a gated community.
But NICIL has since stated that "GuySuCo, in fact, entered into a Restrictive Covenant as set out in the terms and conditions of the sale, published in the Vesting Order effecting the transfer of title, that "the property shall not be used for any other purpose other than for the construction and operation of a wood processing facility with the option of future development in manufacturing, industrial and commercial activities including the construction and operation of shopping mall, providing that the construction of the wood processing facility is commenced first" and "that construction of a wood processing facility shall commence within one year of the execution of this agreement."
The statement by NICIL added, "neither Government, GuySuCo, nor NICIL have any knowledge of any change of the agreement which was entered into with South American Wood Inc."
Neither GuySuCo nor NICIL have indicated who bears the responsibility for investigating the breach of the Restrictive Covenant.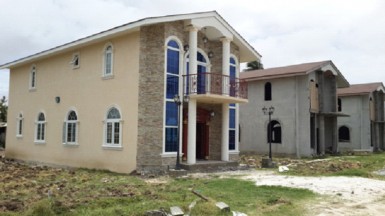 According to the Land Registry Act Section 112 (1) "the proprietor of any registered land may apply to the Commission for the removal in whole or in part from the register of any easement or restrictive covenant which has been abandoned or extinguished."
Stabroek News reached out to the Ahmad Group at its Georgetown offices and Rafik Ahmad said the New York offices would need to be contacted.
In November of 2013 the land had remained unoccupied except for the construction of three lone unfinished houses.
The Leonora Project's website, however, states that the development was a vision of Ed Ahmad. "With 87 houses to build, a full gas and service station, facilities to house two banks, and a huge shopping mall. Leonora Projects illustrates the envisioning of an entire community, not just homes," it says.
Ed Ahmad had pleaded guilty to mortgage fraud charges in the United States in October 2013. He faces over 10 years in prison and over $15 million in restitution and fines.
Comments

Left-arm spinner Ashmead Nedd … picked up a couple wickets in Guyana's win.  

Jerry Lewis   LOS ANGELES,  (Reuters) – Jerry Lewis, the high prince of low-brow comedy on stage and in movies as well as a fund-raising powerhouse with his annual Labor Day telethon, died today of "natural causes" at the age of 91, his family said.

Beharry Automotive Limited (BAL) , the authorised distributor for Toyota parts and lubricants, says that an abundance  of imitation Toyota parts and lubricants have entered the market with the Toyota logo and trademark.

Grace Mugabe   HARARE,  (Reuters) – Zimbabwe's first lady Grace Mugabe returned from South Africa early today, state media reported, after a 20-year-old model accused her of assault in an upmarket Johannesburg hotel room.

Michael Bhopaul, 16, doesn't know if he is this year's best performer at    the Caribbean Secondary Examination Certificate (CSEC) Examinations, but with preliminary results showing that he has obtained passes in 25 subjects, he will be hard to top.