This huge eight-foot. kite, created by Shazaad Mohood, 29, of Bush Lot Village, West Coast Berbice, was the centre of attention on Easter Monday.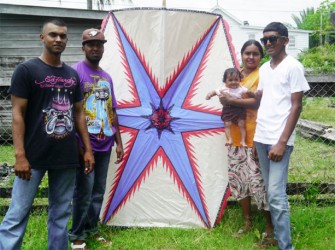 It was the largest at a fun day in the village, organized by family members of Jumbo Jet Auto Sales.
Many persons were fascinated with the huge kite that soared for several hours.
That was not the first time that he made one of that size and said this year he thought there would have been a competition.
He was not disappointed though as he and his family and friends as well as other patrons enjoyed flying it.
Mohood, who designs kites every year to sell, said it took him just one hour to complete the humongous one. He would also make a unique "umbrella" design every year but it "takes a lot of time…"
Comments

Left-arm spinner Ashmead Nedd … picked up a couple wickets in Guyana's win.  

Jerry Lewis   LOS ANGELES,  (Reuters) – Jerry Lewis, the high prince of low-brow comedy on stage and in movies as well as a fund-raising powerhouse with his annual Labor Day telethon, died today of "natural causes" at the age of 91, his family said.

Beharry Automotive Limited (BAL) , the authorised distributor for Toyota parts and lubricants, says that an abundance  of imitation Toyota parts and lubricants have entered the market with the Toyota logo and trademark.

Grace Mugabe   HARARE,  (Reuters) – Zimbabwe's first lady Grace Mugabe returned from South Africa early today, state media reported, after a 20-year-old model accused her of assault in an upmarket Johannesburg hotel room.

Michael Bhopaul, 16, doesn't know if he is this year's best performer at    the Caribbean Secondary Examination Certificate (CSEC) Examinations, but with preliminary results showing that he has obtained passes in 25 subjects, he will be hard to top.