Samantha Foster has won the Shell Gas Station Formula 1 promotion and she and a guest will jet off to Belgium to attend the Formula 1 Grand Prix scheduled to be held from August 22 to August 24 this year.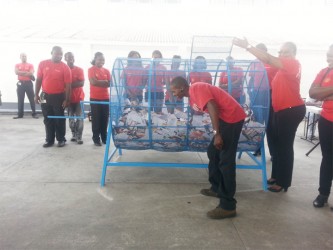 Foster's name was picked by a Shell customer yesterday from over 300,000 vouchers in the rotisserie.
The lucky woman and her guest will be treated like a VIP while attending the Formula 1 Grand Prix in Belgium and will also enjoy a side trip to Amsterdam for a dinner banquet with Formula 1 participants.
The Grand Prize also offers hotel accommodation in the VIP Shell suite, including all the benefits and provides the winner an opportunity to meet the Ferrari drivers as well as to explore the racing facilities.
The SOL Company also provides the winner with US$1,000 spending money and Formula 1 souvenirs.
The promotion, which began on February 25 and ended on April 17, also had consolation prizes of $5,000 gas vouchers, which were rewarded to customers during the promotion period.
Comments

LONDON, (Reuters) – The gradual decline of West Indian cricket is hardly a new phenomenon but the latest capitulation of a once-dominant test match power has brought genuine expressions of sadness throughout the sport.

Eleven residents of the juvenile correctional centre at Onderneeming on the Essequibo Coast were apprehended between yesterday and this morning.

With growing pressure on the government over the overcrowding of jails, MP Michael Carrington is confident that the parliamentary bill in his name to ease penalties on marijuana use will gain the support of the governing APNU+AFC benches of which he is a member.
The National Toshaos Council (NTC) is to begin its conference today and high on the agenda will likely be ongoing concerns about the lands commission of inquiry (CoI) which the government has convened.
A Trinidad-based medical products company has secured four contracts worth $135.4m. According to the Ministry of the Presidency (MotP), Cabinet at its meeting on August 15,2017 noted the award of 16 multi-million-dollar contracts.