Four inmates of the New Amsterdam Prison were hospitalised in serious conditions last evening after they were attacked by a fellow prisoner, who doused them with acid and chopped them about their bodies.
Abdulsalam 'Sato' Azimullah, 31 of Hampshire, Corentyne and Davendra 'Bara' Harricharran, 28 of Nigg, Corentyne and Kwame Bhagwandin, 32, and Clarence 'Wild Hog' Williams, both of Angoy's Avenue, New Amsterdam, were rushed to the New Amsterdam Hospital following the shocking attack, which occurred at around 5:30 pm yesterday.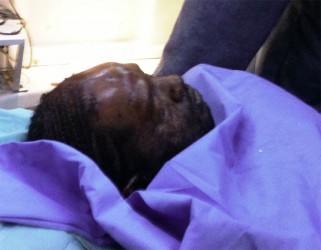 After being treated, Azimullah and Williams were transferred to the Georgetown Public Hospital in an ambulance, where they arrived after 10pm. The two other prisoners were subsequently transferred to the city hospital this morning.
Persons told this newspaper that "blood was all over" when the men were taken to the New Amsterdam Hospital in handcuffs and shackles.
Reports are that the well-planned attack was carried out by a convicted prisoner known as 'Shoulder,' who is now in police custody. The victims are also claiming that a "prison warden" reportedly gave the key to a prisoner, identified as Ryan Samaroo, who opened a door, allowing the assailant, who had reportedly been placed in solitary confinement, to run in and launch the attack.
At the hospital, Harricharran walked out of the vehicle holding his wounded hand that was wrapped in a cloth and sat in a wheelchair. The other three were lying flat in the back of a police pick-up and had to be helped out.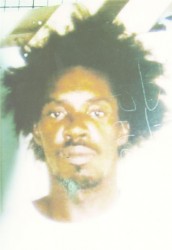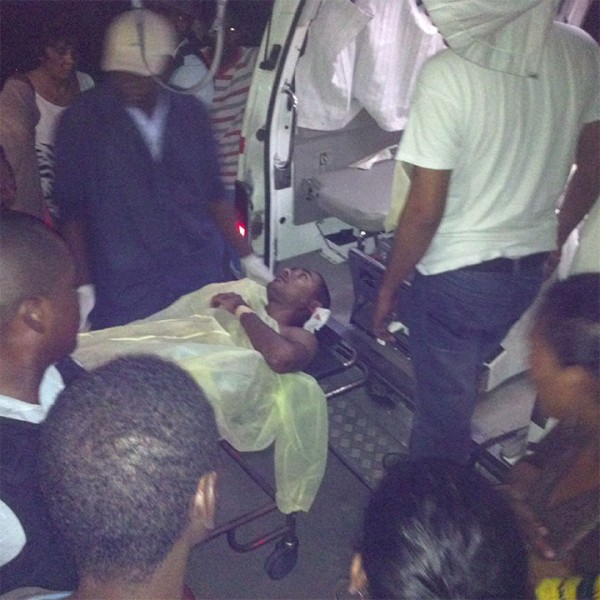 Harricharran suffered chops to his hand, feet, neck, ears as well as a cut to his neck. Bhagwandin's face was spotted with what appeared to be acid burns he sustained to his head, face, back and other parts of his body. In addition, his hand was almost severed.
Harricharran's pregnant wife, Padmini, told Stabroek News that she just heard that there was an incident at the prison and she and other relatives decided to go and check. When she got there, she discovered that her husband was involved.
Bhagwandin's mother, Donna Liddle, was trying to figure out what exactly happened to her son and how the attackers got access to acid and a cutlass.
His reputed wife, Richlyn Smith said he was arrested on January 15 after police ransacked her house and took away a laptop, two cell phones and other articles. Police told her they were looking for guns and stolen articles.
He was charged and placed on $300,000 bail and it was subsequently reduced to $75,000. Two days later he was arrested for another robbery that occurred on the East Bank of Berbice.
Padmini recalled that a few weeks ago after her husband was arrested police went to her house and ransacked it and took her into custody for the night together with her five-month-old baby.
Harricharran was charged with the $10M robbery committed on a Corentyne businessman at a bank at Rose Hall.
His wife insisted that he is innocent and said he operates a business, selling rice in Georgetown.
Comments

The sugar union, GAWU today said that more sugar workers are to be made redundant.

(Trinidad Guardian) Education Minister Anthony Garcia says the University of Trinidad and Tobago (UTT) is of the view that the organisation is "overstaffed and to run the university efficiently it will mean they have to trim fat." But former Tertiary Education Minister Fazal Karim is warning that the decision to retrench 287 staff members, will "compromise the quality of teaching and learning and administration at the university," and may impact its accreditation with the Accreditation Council of Trinidad and Tobago (ACTT).

In preparation for Guyana's emerging oil and gas sector and the bustling business usually synonymous with the industry, the Pegasus Hotel is expected to undergo a huge expansion which includes office and residential rental spaces.

Police Commissioner Seelall Persaud is to resume his duties today after spending approximately six months on leave, Public Security Minister Khemraj Ramjattan yesterday confirmed to Stabroek News.
The Alliance For Change (AFC) yesterday launched a scathing attack on the union GAWU, accusing it of decades of sabotage of the sugar industry and not genuinely representing the interests of its workers.