A Guyanese man is expected to be arraigned tomorrow in the Queens Supreme Court, New York after he was found mentally fit to stand trial on state and federal hate crime charges two years after he was arrested for firebombing a mosque, the New York Daily News has reported.
According to the report Ray Lengend was being treated at a maximum-security mental hospital until last month but is now fit for proceedings, according to papers filed in a Brooklyn Federal Court.
Lengend, 43, is charged with hurling a Molotov cocktail at the Imam Al-Khoel Islamic Center in Jamaica, Queens, in December 2011. He allegedly said he carried out the attack because he was not allowed to use the mosque's bathroom.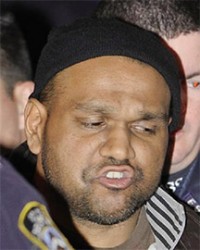 The newspaper said that during a terrifying spree, he also allegedly carried out five fire bombings using Starbucks Frappuccino bottles filled with gasoline that targeted Muslims and an Arab-owned grocery store.
Lengend told cops he wanted to kill "as many Muslims and Arabs as possible," authorities said.
Comments

In preparation for Guyana's emerging oil and gas sector and the bustling business usually synonymous with the industry, the Pegasus Hotel is expected to undergo a huge expansion which includes office and residential rental spaces.

Police Commissioner Seelall Persaud is to resume his duties today after spending approximately six months on leave, Public Security Minister Khemraj Ramjattan yesterday confirmed to Stabroek News.
The Alliance For Change (AFC) yesterday launched a scathing attack on the union GAWU, accusing it of decades of sabotage of the sugar industry and not genuinely representing the interests of its workers.

The importance of foot health, especially for persons with diabetes, was emphasized by Podologist Yvonne Braithwaite yesterday, when she launched the local leg of Rovon Health Care Inc, which includes a foot spa.

All local and international bidders for government contracts are being asked by the National Procurement and Tender Administration (NPTA) Board to complete a NPTA Supplier Registration form to obtain a registration number which they can use on bidding documents for quick database referencing.