Hotel Tower finds buyer, but workers to be laid off
Hotel Tower says it has found a buyer and all remaining workers will be laid off as part of the sale agreement—a move that has left workers with mixed feelings.
"We met with a director of the company today and the mediators. What was explained was that the hotel had a buyer but the buyer isn't buying over the past responsibilities of the company, nor do they want the current employees… so they will give them an initial payment to pay off all expenses and work from there," an official from the Ministry of Labour explained to Stabroek News yesterday.
The official said that the ministry met with Hotel Tower Director Salim Azeez mid-morning yesterday regarding payments to workers and was informed of the hotel's future plans.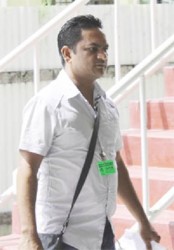 A source close to the hotel told this newspaper that the hotel is being sold to a foreign company at a price tag pegged at over US$10M.
The buyer has already made a deal and has paid the company US$1M, which will go towards the payment of all outstanding debts the company has, including owed wages and salaries and severance.
This will be paid to the 67 workers by the end of July. Having a clean financial slate and no liabilities, the foreign company will then, at the beginning of August 2014, make a deposit of another US$3M to the hotel owner's account. This will pave the way for the requisite transfer of property, after which the final US$6M will be paid and the transfer completed.
Efforts to contact Sherwood Clarke, President of the Clerical and Commercial Workers Union (CCWU), which is representing 90% of the hotel's workers, were unsuccessful.
On May 23rd, the hotel abruptly closed and employees protested after they were told through an anonymous phone call that letters were at the front counter for them. They said when they collected their letters, they learned that day was the last day of work for them as the hotel was closing. They continued their protests in the days that followed.
The hotel then released a statement on May 27th explaining its abrupt closure, saying that business had declined dramatically in recent times and it assured that assets would be liquidated to pay outstanding amounts to its employees.
Azeez had met with the union on May 28th and had proposed that workers return to work for one month unpaid until he was somewhat clear of his financial crisis. The union rejected the proposal and Azeez left and returned on May 30th with another option which was accepted and a deal was brokered.
The agreement was that workers be given two options-to take a severance package and give management one month to pay it off or to accept a payment of all back wages and salaries and resume work. Twenty-one workers took the latter option while 24 took the former.
On June 2nd, Stabroek News was told that the 21 employees turned up for work as promised and were given a partial payment of $9,500 each. However, they had to leave the premises as not only were they not given all their money but the Guyana Power and Light Inc (GPL) had not reconnected the electricity to the building. Workers had begun cleaning the hotel but this was limited as electricity was needed. Stabroek News understands that some $7.8M is owed to GPL by the hotel.
Workers yesterday expressed mixed emotions at the news of the impending purchase of the hotel, with some saying that the reason they had agreed to being paid off owed salaries was because they knew how hard it was to find a job now.
Others pointed out that they had opted for severance because they knew that the hotel could not recover from the dismal performances lately and escape the financial limbo it was in.
"Look, you know what you have. You don't know what you will get, so we say we will take the pay he owe we and at least we still certain we get a job. Always better that somebody owe you than you ain't gat nothing or nothing to expect," a female employee told this newspaper.
She said that the decision to send home all workers and pay them off does not augur well with her as she was old and job hunting was something she was unprepared for so late in life.
Another employee said that she had from the inception opted for severance because her "gut feeling" told her that the hotel could not recover. "I am glad I chose severance because after all the run around come back around is same place all a we deh," she said.
Azeez along with US-based businessman James Manbahal, Bharti Persaud Misir and Varendra Shiwratan are the last known owners of the hotel.
Hotel Tower first opened its doors in 1866 on the site of the present Guyana Post Office.
In 1910, it was re-sited to its present location on Main Street under expatriate ownership. In 1946, the property was acquired by a Guyanese/Barbadian family, the Humphreys, along with 50 other shareholders and re-named Hotel Tower Ltd.