Shelly Persaud, the young mother discovered early Tuesday morning with her head submerged in a half-filled bucket of water, died from drowning.
Vindra Seeram, 31, her partner of nine years, has been held as a suspect.
Seeram had turned up at the home of the woman's family around 2:30am on Tuesday with the news that he had found Persaud's body with her head submerged in a bucket while she sat on the back steps at the 34 Friendship Public Road, East Bank Demerara home they shared with their three young daughters.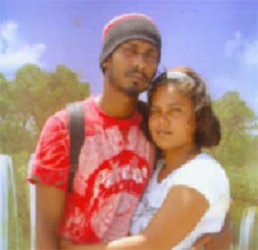 According to relatives of Persaud, 25, Seeram had bite marks to one of his hands, which had prompted the police to take him into custody on Tuesday.
The autopsy conducted on Persaud revealed that she had suffered through strangulation close to her death. The woman's family reported that she had died of drowning and manual strangulation.
The autopsy was witnessed by Persaud's elder sister and an aunt. Orin Morris, her father, said that he had been unable to witness the examination himself due to his extreme distress. However, he relayed that his daughter's neck had shown bruises typical on one who had been strangled.
The father believed that Seeram and Persaud had a fight, during which she bit his hand in resistance. The number of marks, Morris added, indicated that she had put up a real fight.
Since his daughter's demise, the father had immediately voiced the opinion that she had been murdered and had not committed suicide.
Meanwhile, the couple's daughters, aged 8, 4, and 2, remain in the care of Seeram's aunt, who also resides in Friendship. Morris explained that he plans to take care of them eventually and discussions are in progress about what would be the best course of action for the girls.
Comments
British High Commissioner to Guyana Greg  Quinn  yesterday said that it was hoped that more would have been done to push the constitutional reform process forward.

A West Coast Berbice man died after he reportedly set his one-storey house ablaze sometime around 11.20 am yesterday.

A Yarrowkabra miner was yesterday charged with the murder of a co-worker, whom he allegedly beat to death during an alcohol-fuelled clash last Saturday at a dredge site in the Potaro Backdam.
A court action was yesterday filed challenging a directive issued in the name of President David Granger to the Police Service Commission (PSC) for a hold to be placed on planned promotions this year, Attorney Rajendra Jaigobin, who operates from the Chambers of former Attorney General Anil Nandlall, is seeking the following declarations by the court: "a declaration that the Police Service Commission, a Commission established by the Constitution of the Cooperative Republic of Guyana, in the exercise of its functions shall not be subject to the direction or control of any other person or authority;
UK security expert Lt Col (rtd) Russell Combe, who is working closely with the Guyana government to resuscitate the Security Sector Reform Action Plan (SSRAP), will be broadening his mandate to assess the country's prison situation.