A 17-year-old 'A' Field, Sophia resident who was stabbed by his cousin late Friday night is slowly recovering in the Intensive Care Unit of the Georgetown Public Hospital, family said yesterday.
Matthew Jack, of 372 'A' Field Sophia, was stabbed several times about his body during an argument with his cousin, who had been accused of stealing items from the home.
Matthew's sister Onika Jack said she had noticed that her stereo set, cosmetics and a new pair of sneakers were missing when she returned home. She said her cousin was at home alone but when she confronted him he denied it. She said Matthew tried to speak to him but he became quickly enraged.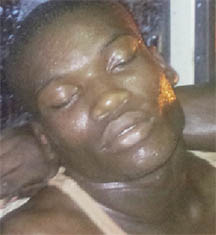 She said he pushed Matthew "against the wall and start stabbing him till he fall to the ground," she said, adding that the injured teen was then rushed to the hospital.
Another cousin, who asked not to be named, said she saw the assailant, whose name was given as Rayon, run to the back of the yard but when they searched for him he was nowhere to be found.
Comments
British High Commissioner to Guyana Greg  Quinn  yesterday said that it was hoped that more would have been done to push the constitutional reform process forward.

A West Coast Berbice man died after he reportedly set his one-storey house ablaze sometime around 11.20 am yesterday.

A Yarrowkabra miner was yesterday charged with the murder of a co-worker, whom he allegedly beat to death during an alcohol-fuelled clash last Saturday at a dredge site in the Potaro Backdam.
A court action was yesterday filed challenging a directive issued in the name of President David Granger to the Police Service Commission (PSC) for a hold to be placed on planned promotions this year, Attorney Rajendra Jaigobin, who operates from the Chambers of former Attorney General Anil Nandlall, is seeking the following declarations by the court: "a declaration that the Police Service Commission, a Commission established by the Constitution of the Cooperative Republic of Guyana, in the exercise of its functions shall not be subject to the direction or control of any other person or authority;
UK security expert Lt Col (rtd) Russell Combe, who is working closely with the Guyana government to resuscitate the Security Sector Reform Action Plan (SSRAP), will be broadening his mandate to assess the country's prison situation.