Court lockups escapee jailed
Armed robbery accused Keron Cummings, who fled the city magistrates' courts complex during a breakout last month, will be spending the next four years in prison.
"I see people was going through the hole, so I go," Cummings, who pleaded guilty to escaping lawful custody told Chief Magis-trate Priya Sewnarine-Beharry yesterday.
Cummings, 24, of Lot 1189 'C' Field, Sophia, was also yesterday sentenced on three counts of armed robbery after being found guilty.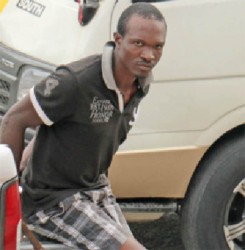 He was sentenced to two years for his escape and four years for each count of armed robbery. However, the sentences will run concurrently and as a result, Cummings will only serve four years in jail.
The Chief Magistrate sentenced Cummings to two years in jail after she informed him that she had considered the fact that he escaped, his guilty plea, the seriousness of the offence, the armed robbery conviction and the other pending robbery charges he faces in other courts.
On May 19, Cummings and three other prisoners managed to escape through a small ventilation window of the lockups at the complex before scaling a chain link fence and making their way through a bushy alleyway that leads out to Brickdam. After realizing what had transpired, police managed to recapture murder accused Steve Bacchus, before he could get far. However, the other three escaped; one was seen entering a waiting motor car. Hours later murder accused Vickram Persaud, called 'Lil John', 28, of Doctor Dam, La Grange, West Bank Demerara was cornered in West Coast Berbice, and shot dead by police during an armed confrontation. Randolph Marks, a 20-year-old armed robbery accused was subsequently found hiding under a bed at Freeman Street, East La Penitence.
Marks and Bacchus were charged and after admitting to the escape were sentenced to two years imprisonment each. They both had denied planning the break-out explaining that the opportunity of freedom presented itself and they just took it.
Cummings, who was recaptured over the weekend, had denied that he, on February, 20, 2014, in the company of others and armed with guns, broke into the home of former Assistant Commissioner of Police Clinton Conway and carted off $520,000 in cash and jewellery.
Most Read This Week