Former President, Dr Bharrat Jagdeo was on Monday elected as the Chairman of the Food and Agriculture Organisation's (FAO's) 22nd Session of the Committee on Forestry (COFO) for the period 2014-2016.
COFO is one of the FAO's governing bodies with over 130 member countries and which deliberates on global forestry issues, a release from GINA said yesterday.
The 22nd Session of COFO is being convened in Rome, Italy from 23-27 June 2014 and among the key issues for discussions are the report on the State of the World's Forest 2014; Payment for ecosystem services and forest financing; Forests and the Sustainable Development Goals and REDD+ and the UN Climate Summit 2014.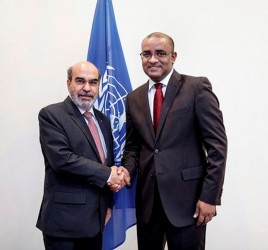 The GINA release said that Jagdeo emphasized the need to push the global forests agenda in light of the role forests play as an important mitigation option for addressing climate change. He pointed to the need for an enabling policy environment at the national level and access to and scaled up financing as two priority areas.
While in Rome, Jagdeo also met with FAO Director General Jose Graziano Da Silva. Among issues discussed were expanding the FAO's work in the Caribbean.
Comments

Wijeyadasa Rajapakshe   COLOMBO, (Reuters) – Sri Lankan President Maithripala Sirisena today sacked the justice minister over his criticism of a $1.1 billion deal, signed last month, to lease a port to a Chinese company, the cabinet spokesman said.

NEW YORK,  (Reuters) – Two Harvard University researchers said in a study published today they had collected scientific data proving Exxon Mobil Corp made "explicit factual misrepresentations" in newspaper ads it purchased to convey its views on the oil industry and climate science.

In the wake of rising bad loans and a massive alleged fraud against it this year, the Guyana Bank for Trade and Industry (GBTI) has posted an unaudited net after tax profit of $603m for the first six months of this year compared to $961m in the same period for 2016.

Vamanadev Hiralall, of the privately-run Saraswati Vidya Niketan (SVN), is the country's top performer at this year's Caribbean Advanced Proficiency Examinations (CAPE) after achieving an accumulated 13 grade one and 3 grade two passes.

Twenty-six students in the top one percent of the 12,684 who sat this year's Caribbean Secondary Education Certification (CSEC) examinations earned 12 or more Grade I passes, with half of them, including the top performer, coming from Queen's College (QC).